Carvers make a lifetime's commitment to their art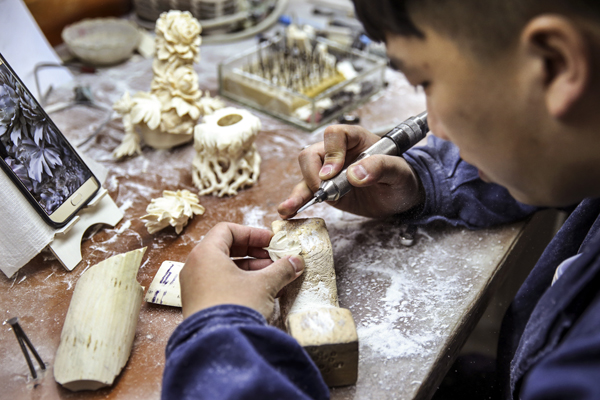 Guo Chen carves a piece of ivory at his desk at the Beijing Ivory Carving Factory. [Photo by Zou Hong/China Daily]
Walking down an alley off a bustling street in Chongwenmen, downtown Beijing, it's easy to miss a sign next to a small glass door that announces the Beijing Ivory Carving Factory, so very few people enter the simple facade.
A workshop housing about a dozen craftsmen is located just to the left of the entrance. Noise and white ivory dust fill the air every time the cutting machine is in operation.
Removing a thick, protective mask, Guo Chen, 29, revealed his face. In 2009, the graduate of the College of Art and Design at Beijing University of Technology was one of seven graduates recruited by the factory, the first time the carving workshop had seen new faces in two decades. Prior to the recruitment, the youngest craftsman was 54.
In 2015, two more graduates from the same college were recruited, but they are likely to be the last.
"The time-hallowed crafts are disappearing. If the younger generation doesn't pass the skills on, they will die out soon," said Zhang Shulan, director of the factory's art and design department.
Unlike carving on lower-grade materials, working with ivory is a painstaking business because of the high cost of the materials. Before they begin carving on small pieces of leftover ivory, novices have to practice on wood for six months to a year.
Based on their talent and personal interests, each student has a mentor who specializes in a certain skill. After studying for three years, a beginner becomes a fully fledged apprentice, the lowest rung of the ladder.
A new field
It's now eight years since Guo started learning to carve ivory, and he is focusing on flowers. As a sculpture major in college, he said ivory carving is a new field, but it retains the core ideal of "removing" rather than "adding" .
Thanks to his studies at college, Guo is familiar with both Eastern and Western art, and the clash of cultures often provides him with fresh inspiration. Unlike traditional works, which often feature flowers, rocks and landscapes, he tries to add animals as a new element to the natural scenery.
"I feel good focusing on just one thing for months, or even years. Craftsmanship, or what people usually describe as the artisan spirit, is precious in today's fast-paced world," he said. "Even children can tell if your carving is lifelike or not."
Guo and his wife, who was a classmate at college, both work at the factory as carvers. Their combined monthly salary is just 10,000 yuan ($1,450), which means they are unable to afford even a small apartment outside the Fifth Ring Road, far from the center of Beijing.