Palace Museum's new virtual city app has a royal aura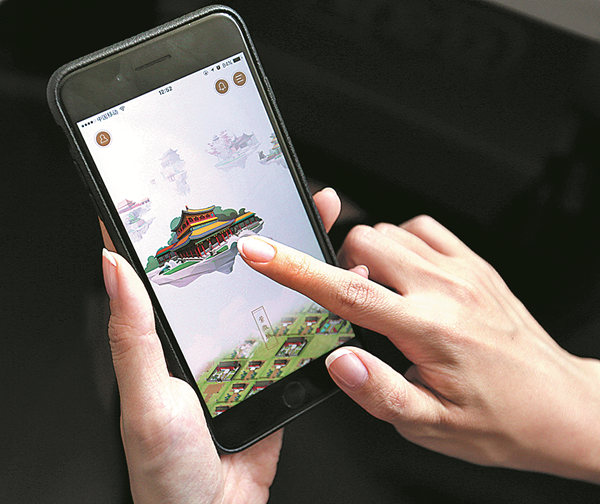 A mobile phone user experiences the Palace Museum Community app in Beijing.
It looks like a life simulation computer game, but this new online community is more than just entertainment.
Netizens are able to "construct" their houses in a virtual ancient Chinese city with a royal aura, as the Palace Museum in Beijing — China's former imperial palace, also known as the Forbidden City — announced on Thursday night the launch of its flagship app in the Apple Store, combining its digital approaches for users.
The app, The Palace Museum Community, builds up a virtual city with traditional Chinese architecture as an online social network platform. Users can win bonuses by completing missions on the network, therefore advancing their levels and refurnishing their manors. A major mission is to read, share and post articles about the museum and other contents on traditional culture.
According to Yu Zhuang, head of the new media team in the Palace Museum, the app also serves as a hub to connect nine apps and other digital platforms that were previously released by the museum. Activities such as exhibition information, tour guidance, digital display of collections in warehouses and academic research results are also mixed into the interactive game.
"For many people, the Palace Museum has been a life-style as they use our apps," Yu said. "The internet has provided us with more channels to expand museum influences to more corners in people's everyday lives."
For example, 365 Days of Masterpieces, which was released by the museum in 2015, is a calendar app to introduce one piece each day of a highlighted collection plus cultural background. It was among Apple Store's best apps of 2015 in the Chinese division.
Yu also announced that high-resolution images of 100 artifacts in the museum went online on Google Arts & Culture — which features virtual artwork collections from around the world photographed in high resolution — on Thursday.
In 2014, after releasing a series of mobile apps, Shan Jixiang, director of the museum, said the institution planned to build a comprehensive digital community within three years.
He said on Thursday that The Palace Museum Community is a crucial step to fulfilling that goal.
"When those previous products have hooked many fans, I hope the new community will gather them together," he said.
Shan believes digitization is a way to expose more treasures to the public. Therefore, the museum opened a digital exhibition hall in its Duanmen Gallery last year.