Tourism puts poor village on path to prosperity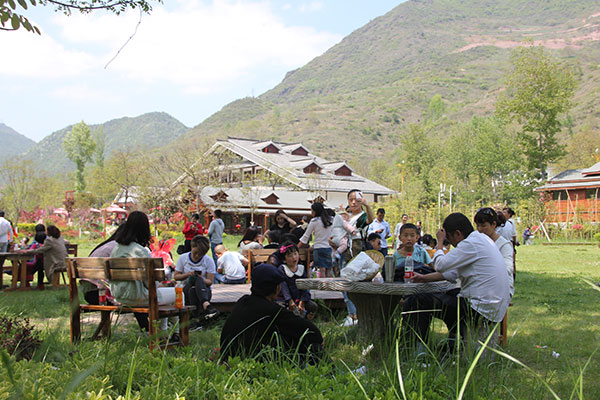 Tourists relax in a meadow in Huaqiao village in Kangxian county, Gansu province.[Photo provided to China Daily]
Editor's note: In the run-up to the 19th Communist Party of China National Congress, China Daily sent six reporters to villages nationwide to live for a month and take a look at how people are working to ensure that China's poverty eradication plan succeeds.
Scenic spot attracts over 50,000 visitors, generates 9 million yuan
Like many other young people in Huaqiao, in Gansu province's Kangxian county, Mao Zhanghui used to live in one of the village's mud houses and migrate each year to cities such as Shanghai to work in low-paid positions, such as on construction sites, so that his family would not starve.
The land in the mountainous village could barely yield enough corn and wheat to support his wife, parents and 5-year-old son.
However, Mao found employment in Huaqiao and returned to his home village in 2014, when the Kangxian county government began to focus on developing tourism to alleviate poverty.
"The village was turned into a big construction site," he said. "The river was dredged and new roads were built."
With the 380,000 yuan ($55,160) he borrowed from a local bank and his friends, he built a three-story building, which houses a restaurant and was opened last year.
"We receive tourists every day, and during holidays the restaurants are always full," Mao said. "During the three-day May Day holiday this year, I made 20,000 yuan."
To help pay back his loans quicker, Mao also contracted more than 3 hectares of land with two other villagers in the mountains and employed five villagers to grow herbs for traditional Chinese medicine.
"I hope my business develops so I will not need to leave the village to make a living," he said.
Of the 774 villagers living in Huaqiao, more than 300 have jobs related to tourism, such as in restaurants or hotels, or selling agricultural products, according to Shi Wanglong, deputy Party chief of Changba township, which governs Huaqiao.
By the end of last year, tourism had become a pillar industry for 69 villages in Kangxian, accounting for about 20 percent of the villages in the county, according to the local government.
The county received 1.9 million tourists last year, an increase of 36.8 percent compared with 2015, while more than 5,100 households living below the poverty line were engaged in tourism-related businesses, which helped increase the average household income by more than 10,000 yuan, the county government said.
By the end of last year, the number of villagers living in poverty in Kangxian fell to about 29,000, accounting for about 17 percent of the county's total population in rural areas, compared with 22.7 percent at the beginning of the year.
As of early May, Huaqiao-a 4A-level scenic site, as certified by Gansu-had received more than 50,000 tourists this year, generating revenue of more than 9 million yuan, Shi said.
Meanwhile, villagers' average incomes exceeded 8,000 yuan last year, more than twice the figure before 2014, he said.
"Developing tourism has helped the villagers improve their living conditions," Shi said.
"They have also become more willing to improve their lives through their own labor, rather than just waiting for help from the government."
"The whole village is so green and clean, and the air is fresh and cooler here," said Wang Cong, a tourist from Longnan, Gansu. "I think I will come here again in the summer with my family."
Zhu Yanjie, deputy Party chief of Zhujiagou village in Kangxian, said he believes the beautiful natural scenery and well-preserved local culture in many of the county's villages will attract more visitors from nearby cities.
"With tourism developing, more job opportunities will be created, and more villagers who have migrated to work in cities may return," Zhu said.