Renovation program raises living standards in rural areas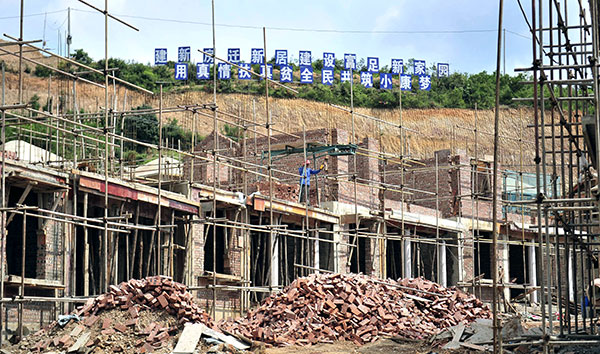 Workers build new houses for impoverished families in Xionglumo village, Yunnan province.[Liu Ranyang/China News Service]
More than 1,400 families now have new homes as a result of a policy to rehouse people living in impoverished areas, as Hou Liqiang and Li Yingqing report from Binchuan county, Yunnan province.
Jinhuo Buwei used to dread rainstorms because the water leaked into her house and even washed the soil off the interior cob walls, made from a rough mix of water, mud and straw.
"We couldn't sleep, and we had to cover the bedding with plastic sheets so it wouldn't get soaked. Sometimes, we didn't manage to do it in time," said the 46-year-old from Lijiao village, Binchuan county, in the southwestern province of Yunnan.
As a result of a local government program to renovate dilapidated houses in rural areas, especially those occupied by impoverished families, Jinhuo's family of three no longer has to worry during the monsoon season, which lasts from May to October.
"I never expected my house to be rebuilt so well and with so much natural light because my family depends on the dibao (a poverty-alleviation program that guarantees a minimum standard of living) for our livelihood," said Jinhuo, from the Yi ethnic group.
No member of the family is fit to work: Jinhuo has rheumatism, which makes it difficult for her to walk; her husband was born with a mental impairment; and, at age 67, her mother-in-law is too old to labor in the fields.
Renovation work on the 60-square-meter house was completed in late September, at a cost of 71,000 yuan ($10,300), as part of a government campaign to eradicate poverty by 2020.
In rural Yunnan, people earning 2,800 yuan a year or less are officially designated as living in poverty.
The family only had to contribute 3,000 yuan of the cost, while the government paid the remainder. Jinhuo also received 2,000 yuan to buy basic necessities so the family could start its new life as soon as possible.
Zhu Lin, a fellow Lijiao resident, lived with his family of six in a house that had cracked and leaning cob walls. His bedroom had no window, so it was just a dark cell.
"I wanted to renovate the house, but we didn't have enough money," said the 55-year-old farmer, who used to depend on just 2 mu (0.13 hectares) of farmland to make a living.
Zhu received the same benefits as Jinhuo, and also obtained a low-interest loan of 40,000 yuan from the local government. He used the money to buy two oxen for his plowing business, and also rented extra 2 mu of farmland to grow grapes.
During the planting season, he can make 200 to 300 yuan a day plowing fields for his neighbors. He is hopeful that his investment in land will pay off: "If the price of grapes is good this year, I am confident I will rise above the poverty line."