Xi meets with leaders of Argentina and Cambodia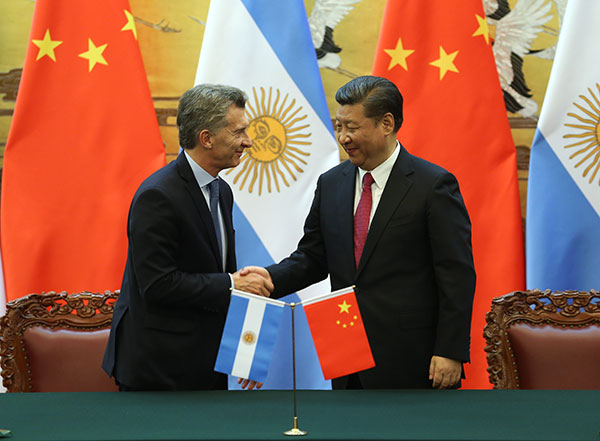 President Xi Jinping greets Argentine President Mauricio Macri at the Great Hall of the People in Beijing on Wednesday. It was their third meeting in 13 months.Wu Zhiyi / China Daily
Warm relations, cooperation mark president's talks with Macri and Hun Sen
President Xi Jinping met Argentine President Mauricio Macri and Cambodian Prime Minister Hun Sen in Beijing on Wednesday.
Nuclear energy, sports and infrastructure were among the highlights of the 16 cooperative documents signed between China and Argentina after Xi spoke with Macri.
They included a general contract for building the fourth and fifth nuclear power plants of the South American country.
Macri combined a state visit to China with attending the Belt and Road Forum for International Cooperation on Sunday and Monday.
The meeting of the two leaders on Wednesday was their third in the past 13 months.
Xi noted that this year marks the 45th anniversary of the establishment of diplomatic relations between the two nations. He said the two countries should further strengthen mutual political trust and support each other on issues involving each other's core interests.
Macri said his country adheres to the one-China policy and Argentina will advance cooperation in the spirit of mutual respect and mutual trust.