On 30-year quest, man seeks home for photos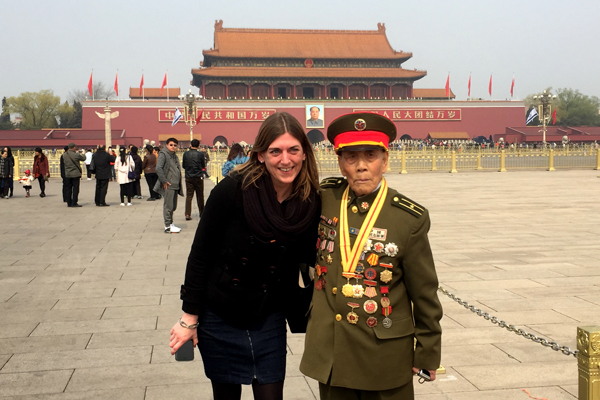 A photo of a foreign visitor and a Chinese veteran taken by Gao Yuan. Provided To China Daily
Gao Yuan has taken nearly 700,000 pictures of tourists in Tian'anmen Square since he first began plying his trade in 1979 at the age of 19.
Over the decades, he has witnessed many changes, from the popularization of color photography to the introduction of digital cameras and the subsequent decline of photographic film.
If each of the pictures he has taken since he began were laid out side-by-side on the ground, they could circle the square's perimeter 40 times.
Yet almost 1,000 of the photos have never been claimed by the subjects. Sometimes the tourists who posed for the pictures gave him the wrong mailing address, while others had to leave Beijing before their photos were ready.
So Gao has been trying to get back in touch with them, turning to the modern marvel of social media for help.
"Some of them may not have another chance to come back to the square, so my photos will mean a lot to them," he said in an interview with Beijing News, adding that he never throws a picture away.
The subjects of his photographs range from foreign leaders to a homeless man who pinned a piece of cloth with the date on it to his right shoulder for the picture. The man returned for another photograph this year, but Gao didn't charge him this time.
His most memorable experience came about six years ago, when he took a picture for a visiting government official from Chile who was accompanied by bodyguards and a large tour group.
"They wanted their photo taken and the accompanying Chinese officials invited me to take it," he said.
One photo he made more recently features three overseas Chinese couples jumping for joy in front of the red walls of the Tian'anmen Rostrum.
"One of the couples couldn't help but cry as they watched the flag being raised in the square. They were sincerely touched by all of the homeland's amazing developments," he said.
"So much has changed with the passing decades, but two things have stayed the same: the Tian'anmen Rostrum and first-time visitors' feelings for the place."
As for the unclaimed photos, Gao said social media has helped a lot. In September, a man from Henan province got in touch to ask about a photo he had taken with his father when he was 18.
Gao sent him several pictures based on the man's description - one of which showed the two in the 1990s.
"What I want most is to take another photo for the people who find me and get their pictures back. It's like a ritual, my ritual."
"Working for so many years has cultivated a special feeling inside me. It feels like I'm on a mission," he said. "I am just a humble man, but I think of myself not as a photographer only. I'm also a recorder, keeping track of the changes over time.
Jiang Chenglong contributed to this story.