Xi: Developing China-Russia ties a strategic choice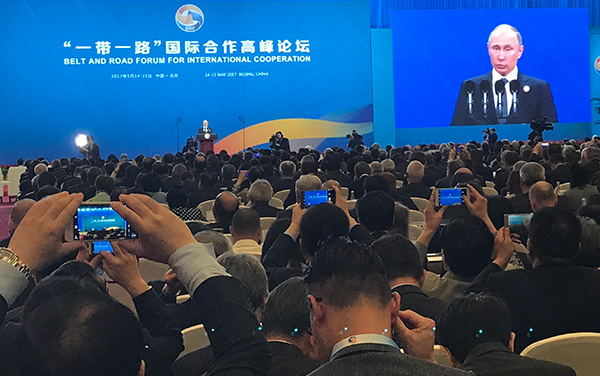 Russian President Vladimir Putin speaks at the opening of the Belt and Road Forum for International Cooperation in Beijing, May 14, 2017. [Photo by Xu Jingxing/chinadaily.com.cn]
Developing and deepening China-Russia relations is a strategic choice by both countries, and they should make every effort to enhance and maintain the relations no matter how the international situation changes, President Xi Jinping said on Sunday.
Xi made the remarks when meeting with his Russian counterpart Vladimir Putin in Beijing.
Both countries should strengthen strategic cooperation, jointly promote sustained and steady growth of the world economy and push for peaceful settlement of major international and regional issues, Xi said.
The two countries hope to improve the global governance system, and inject more positive energy for the world peace and stability, Xi added.
Putin said the proactive communication, coordination between both countries and their support to each other on major international issues are an important, stabilizing factor for the international community.
The two leaders also exchanged views on the Korean Peninsula situation and other international and regional issues of common concern.
On bilateral ties, Xi said the two countries should expand cooperation in areas such as science, technology and innovation, and raise the level of pragmatic cooperation between the two countries and achieve more results.
Putin said that Russia-China relations are developing at a high level, and they enjoy frequent high-level exchanges, close exchanges between government departments and legislative bodies.
Putin said the bilateral trade has seen rapid growth and an improved trade structure, and the two sides should deepen cooperation in trade, energy, manufacturing, education, local, tourism and sports.
Earlier on Sunday, both Xi and Putin attended and addressed the opening ceremony of the Belt and Road Forum for International Cooperation.
In May 2015, China and Russia reached a consensus upon linking the Belt and Road Initiative with the Eurasian Economic Union.
Xi noted that in the past two years, steady and remarkable progress has been seen in the efforts to dovetail cooperation.
In the next stage, China is ready to work with Russia to deepen pragmatic cooperation with the Eurasian Economic Union and promote the implementation of major projects, Xi said.
Putin echoed Xi's call on the major projects and said Russia is willing to work with China to boost the link between the Eurasian Economic Union and the Silk Road Economic Belt.