10-year-old gets all the attention in school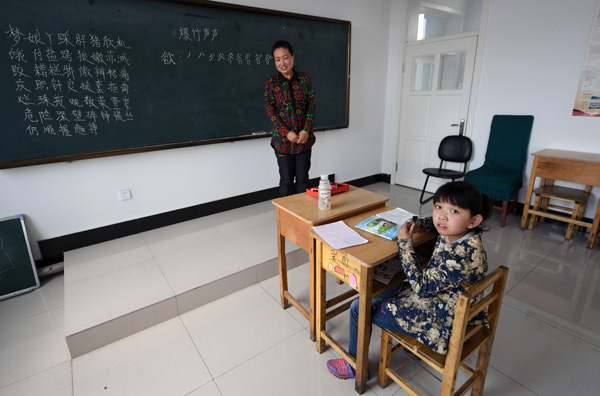 Tu Jiaqi, the only student in her school, has a Chinese lesson with her teacher, Tao Fengju. [Photo by LIU YANG/CHINA DAILY]
Tu Jiaqi is top of her class. In fact, she's the only one in it.
The 10-year-old has been the sole student at Liye Village Primary School since September 2015, when the school reopened after construction of a new 400-square-meter schoolhouse.
"We built the schoolhouse to improve the teaching and learning environment," said principal Tao Fengju, whose school is about 40 kilometers from downtown Harbin, capital of Heilongjiang province. The work started in October 2014, she said, and during construction all 36 students were relocated to the nearby Taiping Primary School.
Yet when the work was finished, the families of 35 students opted to continue sending their children to Taiping, which is larger.
"After a year, the children from Liye had integrated into the larger classes and their parents expressed a strong desire for them to stay," said Yang Shiyan, principal of the Taiping school. "Parents told me their children enjoyed studying here, where they have more classmates and teachers. Some parents even moved to the town."
For everyone but Tu, that desire was realized.
"My grandmother didn't allow me to stay at Taiping Primary," Tu said. "She told me there would be new classmates to play with when the new term began."
Tu's mother abandoned the family when the girl was only 3 years old, while her father is affected by a mental illness. She is being raised by her elderly grandparents, who are both in bad health.
"No one in the family could send her to school," Tao said. "And it's too dangerous for a little girl to go to Taiping alone, even though it's only 2 km away."
So Tu was sent back to the village school, joining Tao and another teacher, Liu Wengguo.
"She has a lower learning ability for her age," Tao said. "It's difficult for her to read a poem and do some calculations. It requires oceans of patience to make her remember something."
In addition, taking care of Tu's home life has also become one of her teachers' daily tasks. "She is hyperactive, so she often gets her hair messy and clothes dirty. I need to keep her clean and tidy," Tao said.
The girl has lunch with her teachers every day because nobody can send food to her.
"Miss Tao asked my granddaughter to have lunch with them together once she found out her student only had dry bread as her lunch," said Wang Shurong, 64, the girl's grandmother. "I wanted to pay for the meal but the principal refused."
Tao said, "It takes us no extra work to get the little girl a hot meal."
The girl sometimes runs off while on the way to school and her grandmother can't follow her. If she doesn't get to school on time, Tao has to look for her around the village.
Her grandmother frequently forgets to pick her up, so then Ai Xinguo, the 52-year-old security guard, escorts her home.
"It is our duty to ensure every child enjoys equal rights to education," said Tao, "I believe any teacher could do the same."
"We provide Tu the same educational resources as students in other schools," said Yang. "In the winter, there will be a 500-square-meter skating rink for her to do ice sports and every week we will get an English teacher to give her English lessons."
"The teachers provide us so much help and I feel relieved to leave my granddaughter in the school," said Wang.