Strong real economy 'a must'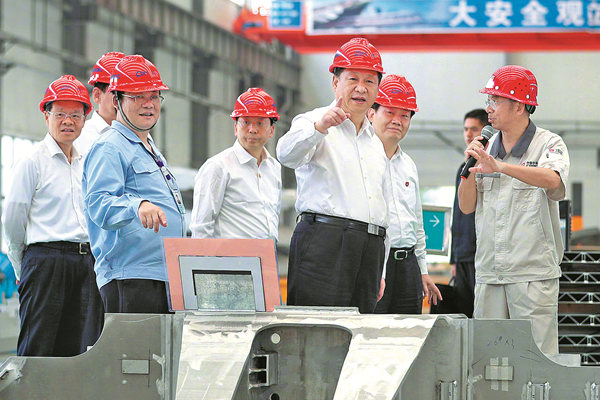 President Xi Jinping inspects Alnan Aluminium Co in Nanning, capital of the Guangxi Zhuang autonomous region, on Thursday. The president called for building a strong real economy and boosting the manufacturing industry.XIE HUANCHI / XINHUA
Xi calls a boost in manufacturing a strategic choice
President Xi Jinping highlighted the importance of building a strong real economy and boosting the manufacturing industry on Thursday amid the government's efforts to stabilize economic growth and deepen reform.
Noting that it's an arduous task to build a comprehensive well-off society, Xi called for solid efforts to push forward sustainable and healthy development of the economy and society, thus paving the way for the success of the 19th National Congress of the Communist Party of China later this year.
"For a big country like China, it's a must to develop the real economy," Xi, who is also general secretary of the CPC Central Committee, told workers at Alnan Aluminium Co in Nanning during an inspection tour of South China's Guangxi Zhuang autonomous region.
It's a strategic choice for China to boost manufacturing, he added.
Xi previously visited the company in May 2010, when he was vice-president of China. Noting that the company's products have been upgraded to aerospace, rail and shipping, Xi congratulated the workers.
The president highlighted innovation-driven development to achieve the transfer from the old engine of growth to the new engine of creativity. He also stressed combining knowledge and expertise.
Xi said that State-owned enterprises are an important force for China's development, and the role of SOEs can only be strengthened.
He also urged SOEs to be strong, improve self-reform, keep up with the times and address their weaknesses through reform. The SOEs should also pay attention to the work of building up the Party, he added.
The president also emphasized the importance of ecological protection and warned of "meaningless development at the cost of the environment" while meeting with residents on the banks of the Nakao River in Nanning, capital of Guangxi.
Ecological civilization is among the five priorities put forward by the CPC during its 18th National Congress in 2012, Xi said, adding that building ecological civilization is in line not only with Chinese traditional culture, but also with the country's need for modernization.
He said the principles of protecting the ecology and harmonious development should be upheld in every area of the country's development.
During the inspection, Xi also talked with 14 representatives from grassroots organizations to gather their opinions for the 19th National Congress of the CPC, which will be held in the second half of the year.
The president attached great importance to the advice and opinions of people from grassroots organizations, and he urged officials to collect public opinions for the decision-making process of the CPC's 19th National Congress.