Captive panda mates with wild panda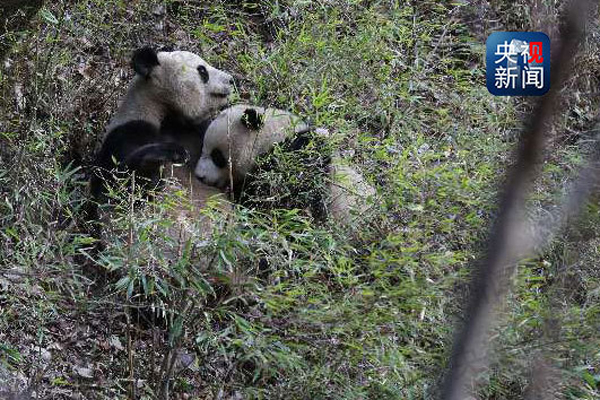 A giant panda feeds her cub in Qinling Mountains, Shaanxi province. [Photo/CCTV]
Researchers from the China Conservation and Research Centre have recently made a breakthrough, discovering one of their captive female giant pandas has naturally mated with a wild male giant panda.
Researchers believed the female panda, named Cao Cao, mated with the male on March 23, 2017, after retrieving a recorder placed on her, on March 27.
It is believed the natural mate occurred at the Wolong National Nature Reserve, in Sichuan province, for 1 minute and 30 seconds.
Currently, there are 471 captive pandas in China, which are mainly bred using artificial insemination. Researchers confirmed a big problem was the lack of new blood – with limited genetic diversity in mating– in the sexually mature pandas held captive.
Zhang Hemin, deputy director of the center, said the only way to increase the amount of genetic diversity at the facility was to release captive pandas into the wild to naturally mate with wild companions.