Former official gets 20 years for bribery
A former vice-ministerial official in the Inner Mongolia autonomous region was sentenced by a local court on Tuesday to 20 years in jail for taking and offering bribes.
Pan Yiyang, former vice-chairman of the Inner Mongolia regional government, accepted money and assets worth 86 million yuan ($12.5 million) from February 1999 to September 2014 while serving as a senior official in Jiangxi province and Inner Mongolia.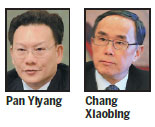 In return, he helped with business operations and getting mining exploration rights, according to the verdict by the Tianjin No 1 Intermediate People's Court.
In addition, from 2000 to 2013, Pan offered bribes of 7.61 million yuan to Ling Jihua, who was then director of the General Office of the Communist Party of China Central Committee, to seek illegitimate gains, the verdict said.
Pan was also fined 4 million yuan, and all his illegal earnings were confiscated.
On Tuesday, another former official at the vice-ministerial level with a major State-owned enterprise pleaded guilty in court to taking bribes of 3.76 million yuan.
Chang Xiaobing, 60, former chairman of China Telecommunications Corp, was accused of taking bribes between 1998 and 2014, and assisting others in making illegal gains in project contracts and equipment purchases, according to a report by China Central Television.
Chang showed remorse, the report said. A verdict will be given later.
China started a massive anti-corruption campaign in November 2012. The central leadership has said pressure against graft will continue.
In the first quarter of this year, 14 officials at or above vice-ministerial level were punished for Party disciplinary violations, including graft. Another 32,900 officials at lower levels were punished, according to the Central Commission for Discipline Inspection on Tuesday.