China unveils youth development plan
Central authorities released China's first 10-year youth development plan on Thursday, vowing it will offer better policies, education and healthcare services for the age group.
In the Middle and Long-term Youth Development Plan (2016-25), published by the Communist Party of China Central Committee and the State Council, China's Cabinet, youth is defined as people from 14 to 35 years old.
"This is the first time central authorities have released a development plan specifically for China's youth," said Deng Xiquan, director of the China Youth and Children Research Center's Youth Research Institute. "It is an important milestone in the country's youth development projects," he told Xinhua News Agency.
The plan covers 10 categories: ideological cultivation, education, healthcare, marriage, employment, culture, social integration and participation, protection of legal rights, crime prevention and social security.
It aims to create a comprehensive system of youth development policies and procedures by 2020, to be followed by an improved version by 2025.
The plan states it will elevate the political, professional and personal qualities of the China's youths, shaping them into the driving force of the Two Centenary Goals - building a moderately prosperous society by 2021 and a strong, democratic, civilized, harmonious and modern socialist China by 2049.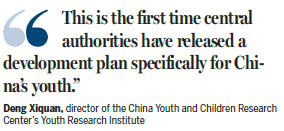 "The modern youth, who come from the single-child and internet generation, are facing new issues from marriage to education to retirement," Deng said. "They will need new policies to support their ever-changing needs and demographics."
The plan sets goals requiring an average of 13.5 years of education for the new labor force and a higher education enrollment rate of over 50 percent within 10 years.
The government will also narrow the educational gap across the country and pump more capital and resources into the less developed western areas.
The plan aims for 90 percent of youth to meet physical standards, and it provides more access to mental and physical care. The plan encourages every youth to play at least one sport. It increases physical education and extracurricular exercise, with emphasis on soccer.
The plan advocates including marriage education into the higher education curriculum to help youths form a healthy and rational marriage view. Marriage counseling and services for older, single youth are also key priorities.
China will build a real-name youth volunteer system and aim to have 100 million registered volunteers by 2025. In addition, 200,000 professional social workers will be trained for youth affairs by 2020 and 300,000 by 2025.
Li Di, an official in the Central Committee of the Communist Youth League who participated in the plan's formation, said the programs are applicable, can be evaluated and they cover the crucial aspects of youth development.