Nothing like a textbook case of learning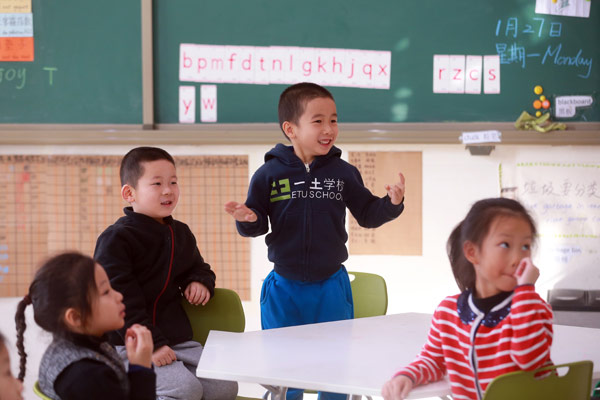 A boy entertains his classmates during a language class. [Photo by Zou Hong/China Daily]
Natural Instincts
Like their peers at public schools, ETU students learn Chinese, math and English using the Ministry of Education's textbooks and curriculum.
Unlike their State-educated peers, though, the students at ETU are taught in an innovative and personalized way that puts them at the center of the class, with their voices being heard and their needs being met by the teachers, according to Guo Xiaoyue, ETU's principal.
For example, when the students are learning Chinese characters, instead of memorizing and writing them out dozens of times, they are encouraged to think about the symbols and discuss why they should learn them. They are also encouraged to note the characters they see in their daily lives, study them on their own and then teach them to their classmates.
In addition, ETU also includes STEAM-the collective name for science, technology, engineering, arts and math-in project-based learning, or PBL, a type of class that requires teachers across all subjects to design the content and teach the class together, rather than working alone.
The teachers are not expected to simply deliver knowledge, but also to answer the students' questions and guide them to think, research and make things on their own.
"Our teachers spend a lot of time working together every day in the belief that PBL is a very effective way for children to learn. It can inspire their natural instincts to learn and explore the unknown," said Guo, who has run her own innovative education program in Beijing since 2013.
Xiang Rong, a teacher of Chinese at ETU, defined a good education as "being able to fill children's eyes with the light of curiosity". That's why, having taught at different schools in China for more than two decades, from primary level all the way up to college, she decided to transfer to the new school.
"Right here in ETU's classrooms, I feel we are doing things correctly. We are not fast, but every step we take is firm and solid," she said.
Guo has decided to enroll her 6-year-old daughter at ETU in September: "She liked the school at first sight."