Deputy gives his all to work for the people
In China, Spring Festival is usually a time for reunions with relatives and friends. But during the holiday this year, National People's Congress Deputy Song Xinfang locked himself in his room and refused any invitations to dinner.
"I never have time to enjoy festivals or weekends - especially Spring Festival, because the two sessions come straight after it," the 64-year-old said.
"Before the festival this year, I collected materials, conducted research and did surveys. During it, I had to make full use of my time writing suggestions and coming up with motions."
Song, who is the director of a honey research institute in Dongying, Shandong province, said he likes being social, but avoids dinners at this busy time of year because they tend to last for a long time and involve drinking alcohol, which is not conducive to getting any work done.
He became a deputy in 2008 and discovered that he was the only one, at that time, from the nation's honey industry, so he made his contact details public via an industry magazine.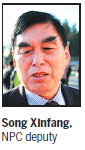 "I wanted people in the industry to be able to voice their opinions or make appeals at any time," he said.
Song soon found, however, that many people who were not in the industry were also turning to him for help. Since he first became a deputy, he has received enough letters to fill two large woven sacks.
"Nowadays, people write fewer letters, but I receive a lot of phone calls and emails - at least three a day and sometimes more than 20," he said.
Calls can come at any time, forcing Song to use two mobile phones. On important occasions, he turns off the one with the number he made public. Sometimes, people even come to his home to ask for help.
A woman from Xi'an, Shaanxi province, who has a dissociative disorder, has called on him many times. Her condition makes her not always in control of her actions and she has to be accompanied by her mother everywhere she goes.
"When she regains control, she is always very sad. She told me she wants to kill herself, but worries that it would hurt her parents," Song said. "She called and emailed me and even came to visit me, asking me to appeal to make euthanasia legal."
Legalization of euthanasia was one of more than 540 suggestions and motions Song brought to this year's NPC session. In his other role as chairman of the China National Democratic Construction Association's Dongying city committee, Song leaves home every day at about 7 am and does not usually return until 8 pm, after work. He is rarely in bed until after 11 pm, as he often has to stay awake and reply to emails.
"Some people turn to me for help. Some tell me their problems. I have to explain things to them. If it's late then I prefer not to talk over the phone, so I reply to them by email instead," he said.
Any free time that he has, he spends writing books about honey - having authored 22 of them so far. Despite only having three-and-a-half years of formal education, Song has managed to obtain four degrees in subjects such as law, honey and management through self-study alone.
"I think the public doesn't have that many channels to make their voices heard. So, as long as they come to me, I receive and listen to them. I analyze their problems and try to find solutions for them," he said.
"The government attaches great importance to our suggestions. The key is that your suggestions are to the point."