Former vice-governor expelled from CPC
Li Yunfeng, former vice-governor of Jiangsu province, has been expelled from the Communist Party of China and dismissed from public office for violating the Party's code of conduct, the CPC Central Commission for Discipline Inspection announced on Friday.
In May, the CCDI announced it had begun an investigation into Li, who was also a member of the standing committee of the CPC Jiangsu Provincial Committee.
Li was found to have breached the Party's code of conduct and refused to cooperate with an organizational investigation, according to a CCDI statement released on Friday.
In violation of the CPC's eight-point rules on austerity, Li used public funds to pay for expensive dinners and frequented private clubs, the statement said.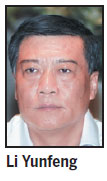 The statement outlined a litany of violations, including not disclosing his personal affairs, accepting bribes, taking advantage of his post to seek profits for others, and allowing his family to accept gifts.
His illegal gains will be confiscated and his case transferred to the judiciary, the statement said.
Xinhua