'Baozza' restaurant will move to new location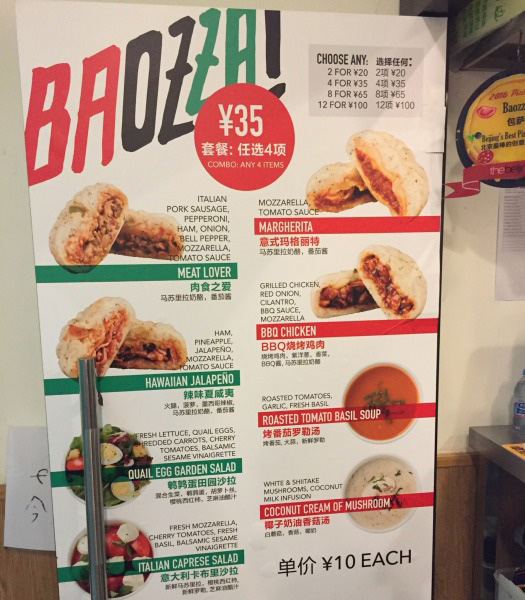 A photo shows a menu of the baozza shop in Beijing. [Photo/dianping.com]
A small restaurant selling baozza, a fusion of Chinese and Italian food, will move to new location at Xiguan Hutong in Beijing's Dongcheng district on April 15 following customers' suggestions.
American consultant Alex Cree came up with the idea to use cheese, tomato and other pizza toppings in China's popular steamed bun during a trip with clients in southern China in 2015.
"We were talking about the idea of maybe combining bao with more traditional American flavors like burger and different things and somebody said 'pizza baozi'," Cree said.
"I said 'bao-zza!' and the more I thought about it, the more I thought there might be something to this," he said.
Cree did not forget the idea after returning to the United States, and began experimenting with recipes. Later he quit his job and moved to China in 2016 to set up a restaurant in the basement of a shopping mall in Sanlitun.
His restaurant offered four-flavored baozza - Margherita, Meat Lover, BBQ Chicken, and Hawaiian Jalapeno. Each bun costs 10 yuan ($1.45).
A customer "Tianmidejuanjuan" left a comment on dianping.com, an information and trading website, that baozza were very delicious, especially when combined with chili sauce, and the cheese and chicken were good.
Another client "ppla_chu" said with the fusion of both Chinese and Italian food styles was really good and he loved the flavors of Margherita, Meat Lover and BBQ Chicken.
But some consumers complained about the restaurant's location, saying the joint was too small and its environment was bad, and they suggested the restaurant to move.
Now, the outlet's website has this message: "We will open our new location on April 15!"
Reuters contributed to this story.