Ozone could turn cities into no-go zones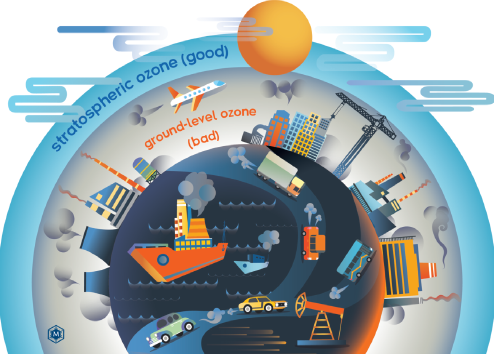 The invisible pollutant is rapidly becoming a main cause for concern in many areas of China, as Zheng Jinran reports.
After the heavy, prolonged smog that often shrouds China during winter, the return of blue skies in spring and summer is always welcome.
However, sunny summer days may not be as beneficial as one might imagine: instead, people may become unwell as a result of rising concentrations of ground-level ozone, an invisible airborne pollutant.
At street level, ozone, a type of oxygen formed with an extra molecule, is created when vehicles, power plants, industrial boilers, refineries and chemical factories emit pollutants that react chemically in strong sunlight.
When Li Hui was affected by ozone pollution after working outside for long hours on sunny summer days, she had no idea what was causing her sore throat and dry eyes. "I didn't have a cold, but I coughed a lot," she said. "Sometimes, my mother had similar problems."
The 31-year-old from the northern port city of Tianjin only realized the cause of her mysterious cough when she received a health alert from a smartphone app that measures air quality. The alert said the pollution level was medium and the main pollutant was ground-level ozone.
"A friend, a physician who specializes in pulmonary conditions, told me the problem had probably been triggered by breathing ozone when the level was excessive, usually on hot summer days," Li said.
The doctor's assumption was supported by Lyu Mengyao, an environmental engineer with the China Meteorological Administration, who said ground-level, or "bad", ozone is different to stratospheric, or "good", ozone, which is found in a band that stretches from about 15 kilometers above the surface of the Earth to roughly 35 km.
According to Lyu, breathing high concentrations of ozone can result in a range of health problems, including chest pain, coughing and irritation of the airways. It can also harm lung tissue and worsen the effects of bronchitis, emphysema and asthma, leading to increased need for medical attention.
Many provinces have noticed the growing risk from ozone pollution. In response, they have issued early warnings, similar to the practice adopted to tackle PM2.5, hazardous fine particulate matter with a diameter of less than 2.5 microns, which has been the main target in the battle against pollution for several years.
For example, the Shanghai Meteorological Service has set up a two-tier warning system-with yellow and orange alerts-for ozone pollution. It also recommends the suspension of outdoor activities and a reduction in the use of vehicles during periods of severe saturation.