Xi hopes tree planting will flourish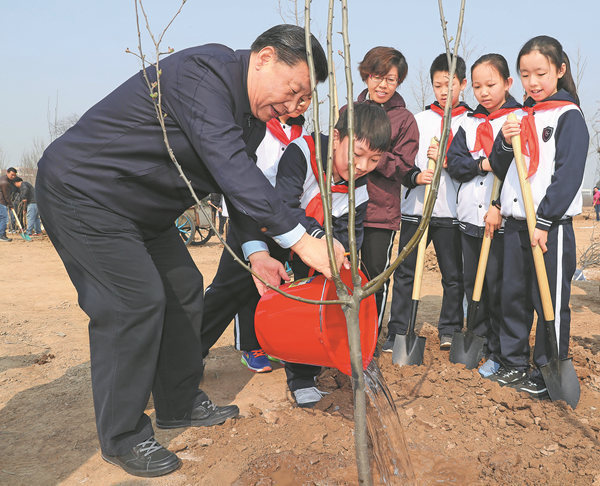 President Xi Jinping joins a tree planting activity in Chaoyang district of Beijing on Wednesday. Lan Hongguang / Xinhua
President Xi Jinping called on the public on Wednesday to stick to the tradition of planting trees in spring amid the government's continuous efforts to build an ecological civilization.
Xi, also general secretary of the Communist Party of China Central Committee and chairman of the Central Military Commission, made the remarks while planting trees, together with other senior leaders and people including primary school students, in eastern Beijing.
It is a Chinese tradition to plant trees when Qingming Festival (Tomb Sweeping Day, which falls on April 4 this year) draws near, Xi noted. Voluntary tree planting has significant meanings, he added, including to help the public cultivate a consciousness of ecological civilization and reach consensus on and join forces to building an ecological civilization.
"We expect blue sky, white clouds, clean water and fresh air, which are all related to ecological construction. The people should live in green shade, and this is the target of our efforts," he said.
The students should establish a sense of protecting the environment and cherish the green plants, Xi said.
Ecological civilization was listed, along with economic, political, cultural and social progress, as one of the goals in the country's overall development plan at the 18th National Congress of the CPC in 2012.
Mentioning that tree planting has progressed well in recent years, Xi called for continuous efforts to plant more trees to benefit the people.
Officials of all levels should keep an eye on long-term rewards, plant trees in urban and rural areas alike, increase green areas and strengthen environmental protection, he said.