Primary school students killed in stampede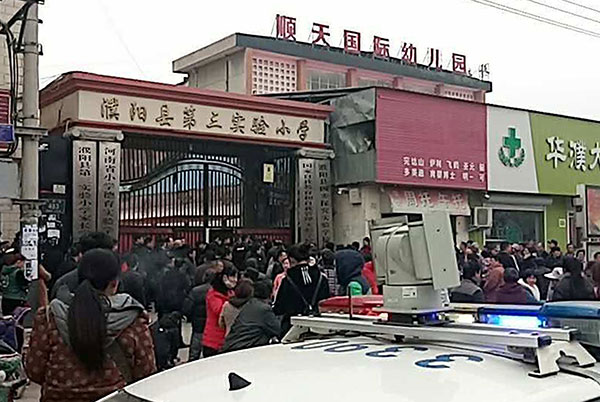 Parents gather outside Puyang No 3 Experimental Primary School in Henan province on Wednesday after two students were killed in a stampede in the school.Xinhua
A stampede at a primary school in Henan province's Puyang county resulted in the deaths of two students, while more than 20 others were injured in the incident on Wednesday morning.
One student died on the way to hospital and the other died after medical treatment failed, according to a local official. Five others were badly wounded, with all the injured receiving treatment at a nearby hospital, the official said.
The principal of the No 3 Experimental Primary School in Puyang was removed on Wednesday afternoon, the official said.
The local government said a large number of students gathering in a bathroom in a short period was the cause of the incident, but earlier reports had said the stampede was caused by the bathroom collapsing.
A teacher from the school said the incident happened at about 8:30 am when students rushed to the toilet during a 10-minute break while preparing for their monthly examinations, according to a report by Beijing News.
Following the accident, the exam was canceled, the teacher was quoted as saying.
Wang Lin, a mother in Zhengzhou, capital of Henan, said: "This tragedy highlights a lack of safety awareness. It is the school's responsibility to provide a safe environment."
An investigation into the incident is ongoing.