Injured man sues bike-sharing company over faulty brake claim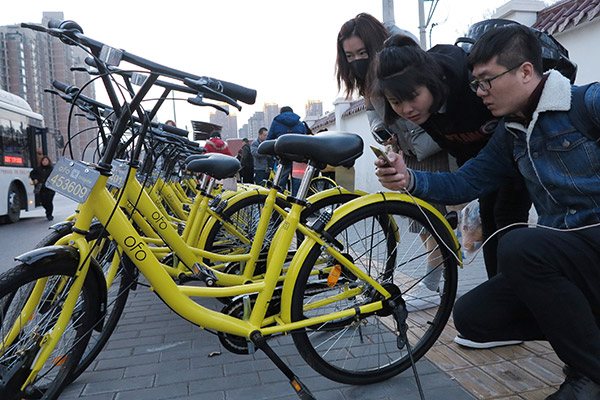 Riders scan ofo bikes in Xi'an, Shaanxi province. [Photo/China Daily]
A 31-year-old Beijing man is suing one of the country's biggest bike-sharing companies amid claims he was injured by a faulty bicycle in what is believed to be the first court case of its kind in China.
The man, surnamed Feng, said he rented one of Ofo's bikes at about 9 pm on Jan 28 near the subway station at the Communication University of China.
He claims a faulty brake caused him to fall off the bike after about 100 meters, leaving him with six broken teeth, a fractured nose and facial abrasions.
Feng said Ofo is responsible for the upkeep of their vehicles and is asking for 20,000 yuan ($2,900) compensation to cover his medical fees, lost wages, transportation costs and mental anguish.
Beijing Chaoyang District People's Court has accepted the case, which is under further investigation.
According to Xinhua News Agency, Ofo now has 15 million users in 40 cities. Dai Wei, founder and CEO of Ofo, said the company expects to have 20 million bicycles on the streets of at least 200 cities by the end of this year.
A spokesperson for Ofo told China Daily that the company is investigating the case, but declined to release any more details.