Xi encourages more help for projects in Rwanda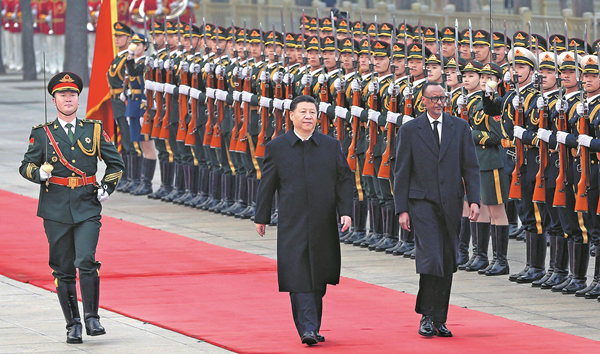 President Xi Jinping and Rwandan President Paul Kagame inspect the People's Liberation Army's Honor Guard outside the east gate of the Great Hall of the People in Tian'anmen Square on Friday.FENG YONGBIN / CHINA DAILY
Infrastructure, special economic zones highlighted
The Chinese government encourages more companies to invest in Rwanda's major infrastructure construction projects in such areas as transportation and energy, President Xi Jinping said on Friday.
China and Rwanda should enhance cooperation in infrastructure construction, industrialization and agricultural modernization, Xi said while meeting with Rwandan President Paul Kagame, who is visiting China on Friday and Saturday. Xi added that China would like to support Rwanda's construction of special economic zones.
China also supports Rwanda to play a bigger role in United Nations peacekeeping activities, Xi said.
He added that China's policies toward Africa will not change and the steps to push forward China-Africa cooperation will not slow down.
Noting that China and Rwanda have had diplomatic ties for 46 years, Xi said the two countries have understood each other and cooperated sincerely to push forward the steady development of bilateral ties.
Xi spoke highly of efforts by the Rwandan president to boost political mutual trust and enhance economic cooperation.
The development of bilateral ties is facing historic opportunities, Xi said, adding that the two sides should innovate on ways to cooperate and deepen mutually beneficial cooperation.
Kagame welcomed Chinese companies' investment in Rwanda in such areas as agriculture, minerals, tourism and infrastructure.
The Rwandan president said that his country cherishes the friendship with China. "Rwanda appreciates the very good bilateral relations and cooperation we have with China," Kagame said.
"In particular, China's contribution in various sectors in Rwanda, especially in infrastructure and development projects, has been very useful," he added.
"I was unable to attend the Africa-China summit at Johannesburg, but the prime minister who participated was able to convey to us the good atmosphere and substantive exchanges that characterized the summit," Kagame said.
In December 2015, at the Johannesburg Summit in South Africa, Xi announced 10 major China-Africa cooperation plans for the following three years, backed by $60 billion, including interest-free loans and lending with preferential terms.
Last week, Foreign Minister Wang Yi said during the top legislature's annual session in Beijing that China has implemented or arranged nearly half of the $60 billion package. China wants to fast-track implementation of projects it funds, especially in industrialization, trade and culture, he said.
Earlier this year, a 36-km road expansion project in Kigali, the capital of Rwanda, which featured loans from China and was built by China Road and Bridge Corp, was honored as a high-quality project by Kigali's city government, according to a news release from China's embassy in Rwanda.
China has pumped $60 million into Rwanda in the agriculture sector and rural development programs, with an additional $20 million channeled to solar projects to bring electricity to schools and health centers, according to a report in The New Times, a leading daily newspaper in Rwanda.
According to the report, China is helping upgrade the hospital in Kibungo district to increase its capacity from 242 beds to more than 1,200. The ongoing rehabilitation and expansion of the Masaka district hospital, also funded by China, will raise the number of beds from 140 to 1,356.