Cross-regional efforts key to cleaner air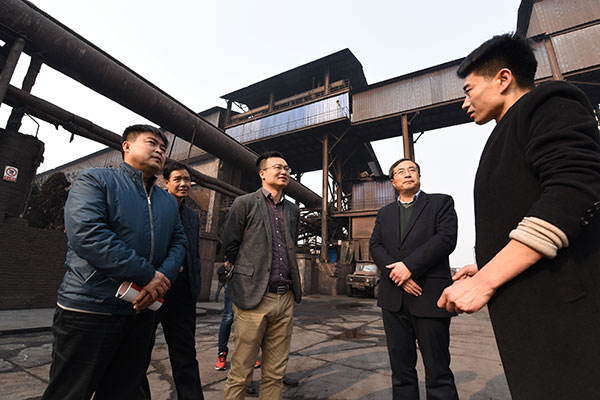 An air quality inspection team sent by the Ministry of Environmental Protection visit a casting corporation in Linfen, Shanxi province, in February.[Deng Jia/For China Daily]
China should speed up establishing unified standards for monitoring and curbing air pollution, so that different regions can coordinate their antipollution efforts, experts say.
Bao Jingling, a deputy to the National People's Congress and former chief engineer of the Tianjin Municipal Bureau of Environmental Protection, said that to curb pollution in the Beijing-Tianjin-Hebei region, China should bring neighboring Shanxi, Shandong and Henan provinces under unified standards for both planning and control.
Bao said that because of geological and meteorological conditions, airborne pollutants can travel from Shanxi, Shandong and Henan to the Beijing-Tianjin-Hebei region. One day in December, as a result of pollutants traveling from the southwest, Tianjin's air quality deteriorated from "good" to "severely polluted"within three hours.
"As pollution can travel across regions, we need standard systems that cover all these regions on issues such as emission standards, pollution discharge fees, fines for polluters and punishing polluters with administrative penalties," Bao said.
He also suggested setting up an administrative organization in charge of air quality control in all these regions, so that they can more effectively coordinate their efforts.
Ministry of Environmental Protection data showed that in 2016, the density of PM2.5-fine particulate matter measuring 2.5microns or less in diameter that is hazardous to humans-was reduced by 7.8 percent to 71 micrograms per cubic meter in the Beijing-Tianjin-Hebei region compared with the previous year. About 56.8 percent of the whole year in this region had good air quality, while the national average was 78.8 percent.
Hou Xinyi, a member of the National Committee of the Chinese People's Political Consultative Conference and a law professor at Tianjin University of Finance and Economics, said that for the past few years, China has made significant progress in air pollution control, but the results still do not meet public expectations.
He noted the lack of a system of laws and regulations that apply to multiple provinces and regions, saying that the current regulations are normally applied nationally, or made by a specific province.
"China needs some regional laws and regulations for air quality control, and to set up unified standards for environmental protection," he said.
Hou also suggested setting up a high-level leading organization to supervise, evaluate and coordinate the regional air quality work.