Maradona to assist youth soccer in China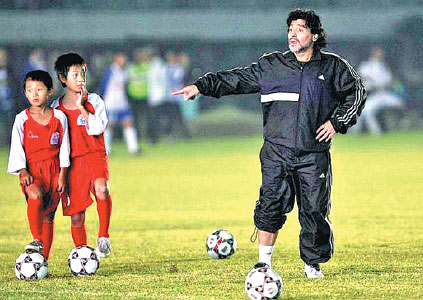 Diego Maradona teaches children soccer skills in Dongguan, Guangdong province. Reuters
Argentinean soccer legend Diego Maradona will come to work in China and help the country's soccer youth, his brand management company said on Friday.
Bi Zhifeng, market supervisor of the Beijing-headquartered Maradona International Brand Management Co, said his company is negotiating with the 56-year-old former Napoli star.
"We are still working on details, like on which day he will arrive and which cities he will visit," he said, adding that first-tier ones including Beijing and Shanghai are options and others with great achievements in soccer will also be considered.
"Maradona proposed himself that he could work in China and help the country's soccer development," he said.
The official meanwhile denied reports by some media that the soccer star would be paid "millions of dollars" for his job in China.
"We are the brand management company of Maradona, so it's not a conventional employer relationship," Bi said. "We have yet to touch the topic of his payment."
In social media posts on Friday, Maradona expressed appreciation toward the president of the brand management company for helping him work in China.
"Thank you very much Ms Tang Qinghui for this opportunity you are giving me to work in China, I will be eternally grateful!" he said on Facebook and Instagram.
The announcement was written in Spanish, Italian and English. Maradona also attached a photo of himself with Tang, an Argentinean Chinese, as they held a Chinese flag.
Maradona had said earlier that he would work for FIFA. "Now it's official. Finally I can fulfill one of the lifelong dreams; to work for a clean and transparent FIFA alongside people who really love football," he said in a post on Facebook on Feb 9.
But the brand management company said it does not conflict with his job in China. "His good relations with FIFA can help China's soccer development," Bi said.
The company also said that the "soccer king" will bring Chinese youths Argentina's soccer technique, culture and belief, and will select elite young Chinese players to train and play in Argentinean football clubs.
Earlier, Maradona defended Carlos Tevez, who in December took big money to transfer to China's Shanghai Shenhua from Boca Juniors.
According to Maradona, Tevez "did what he had to do" by going to China and "did not defraud anybody".
Cao Chen contributed to this story.