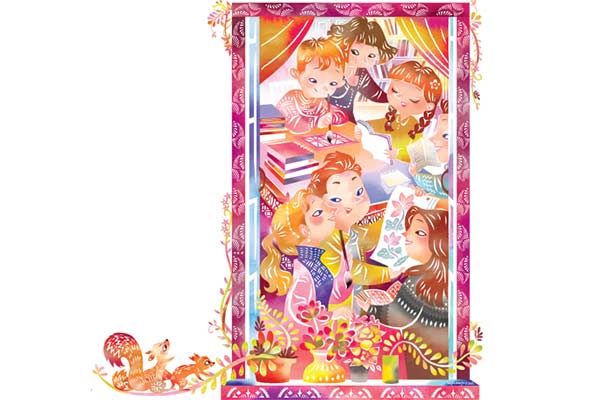 Li Min/China Daily
China's contemporary wordsmiths are gaining a wider audience through the development of the 'modern Silk Road'. Mei Jia reports.

Prior to 2011, kung fu, Jackie Chan and pandas were the images readers in the Arab world associated most with China, according to Ahmed Elsaid, an Egyptian publisher who operates from a base in the Ningxia Hui autonomous region.
Six years later, the list has grown and writers such as Liu Zhenyun, Xu Zechen and economist Justin Yifu Lin have seen their popularity grow with readers in the region.
"Before 2011, even Chinese language majors at universities in the Arabic-speaking world didn't understand Chinese society, the people or history very well. At the time, there were very few books about China in English, let alone Arabic," said the publisher and translator, who majored in Chinese at the Al-Azhar University in Cairo and now operates from Yinchuan in Northwest China.
"When I was a student, only about 50 titles had been bought and translated from Chinese for decades. It was really difficult to get Chinese books, which partly stimulated my plan to become a publisher," Elsaid noted.
The situation improved after the advent of the Belt and Road Initiative, proposed by President Xi Jinping in 2013, which saw more Chinese books, covering a wide range of subjects, appearing in Egyptian bookstores.
Sinologist Marine Jibladze, from Georgia, had a similar experience. She said until recently there were very few books about China in the former Soviet state, with the exception of a small number of foreign translations about traditional Chinese culture.
"The Belt and Road Initiative offers a great chance for more cultural and educational exchanges between the two countries. Recently, we have seen books in Georgian about Chinese literature, history and language," she said.
Multilingual approach
Zhao Haiyun, deputy department chief at the State Administration of Press, Publication, Radio, Film and Television, said since the Belt and Road Initiative began providing funding for translations of Chinese literature, the administration has supported multilingual versions of 980 titles, aiming to reach readers in countries and regions along the routes of the "modern Silk Road".
Liu Xinlu, an academic and translator at Beijing Foreign Studies University's department of Arabic studies, said many people in the Arab world are unfamiliar with Chinese society and vice versa. "To improve understanding, Arabic-speaking people want to read books about our core values and how China perceives the world," he said. "The Arab world used to look to the West for development experience, but now it is more impressed and enlightened by what China has achieved in the past 30 years. People are now more willing to look to the East, and Chinese publishers are eager to introduce more titles to them."
Unlike years gone by, when the Arab world was interested in traditional Chinese culture, such as literary classics, people are now fascinated by contemporary issues, such as the country's development model and modern authors.
Through his research, Liu discovered that people in the Arab world love reading, and they are especially keen on humorous romances.
That point was echoed by Elsaid, who said Liu Zhenyun's use of humor and realism-displayed in works such as Cell Phone and I am not Madame Bovary-is the key to his popularity.
"The contemporary writers introduced to the Arabic-speaking world differ in style, but what they write reflects how Chinese people live their lives, which is attractive to Arab readers," he said.