Women a major presence in China's boardrooms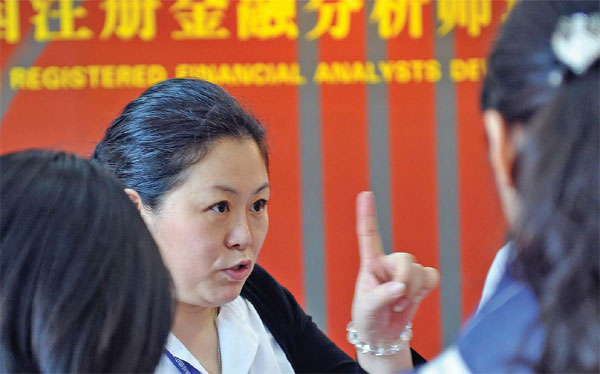 A chartered financial analyst offers investment advice to prospective clients at an international financial expo in Shenzhen, Guangdong province. [Provided to China Daily]
Women made up almost half of all company directors in China last year, according to a report by LinkedIn, the professional networking website.
The report, released ahead of International Women's Day on Wednesday, said women accounted for 44 percent of directors and held 35 percent of all C-suite jobs (the most senior executives, such as chief executive and chief financial officer).
In several fields, including education and nonprofit organizations, women hold 47 percent of jobs at director level or above, while in the traditionally male-dominated field of science and technology, the number of women in senior posts has increased by 18 percent since 2008.
However, the report said an imbalance remains in many industries, including finance and consumer goods manufacturing, with male executives still far outnumbering their female counterparts.
In these sectors, women also spend more time than men at each level before being promoted to a senior position, the report added.