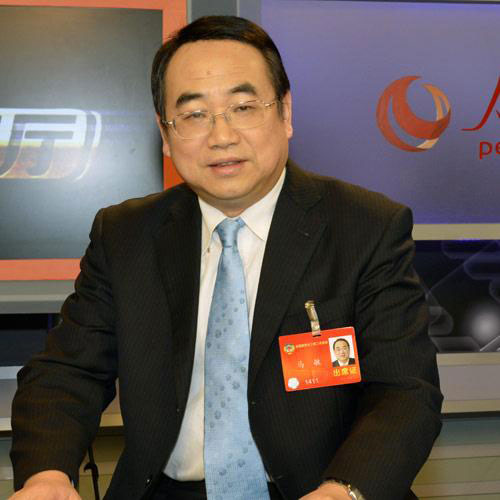 File photo of Ma Min, a member of the national committee of the Chinese People's Political Consultative Conference and secretary of the Party committee of Central China Normal University. [Photo/ people.com.cn]
Building world-class universities and targeting poverty alleviation through education became hot topics in the education sector ahead of the opening of the two sessions, China's annual political high season.
Ma Min, a member of the national committee of the Chinese People's Political Consultative Conference (CPPCC), China's top political advisory body, and secretary of the Party committee of Central China Normal University, shared his ideas on the two hot issues at this year's meeting.
To develop world-class universities and first-class disciplines, Ma said bringing talent together and cultivating it is key.
Ma said universities need to form leading teachers' groups with strong academic backgrounds.
He cited the example of Central China Normal University which is working to transform itself into a world-class university.
"Our university has set up five national top-level majors - history, education, Chinese literature, and psychology - as key disciplines with policy and financial support," Ma said.
Ma stressed the importance of coordinating programs, which calls for major programs functioning in a leading role to set an example and promote the development of other programs.
A guideline issued by the State Council in 2015 said that a number of universities and disciplines should become world-class by 2020, some universities and disciplines should be ranked among the best in the world by 2030 and China would basically become a nation with strong higher education by 2050.
Ma said another goal of building world-class universities and first-class disciplines is to cultivate outstanding students through the guidance of leading professors and teachers, which is the ultimate purpose of their efforts.
In Ma's proposal for this year's CPPCC National Committee session, he also suggested the establishment of a mechanism to regulate university personnel flow and called for a more balanced income distribution system.
Some universities attract top research personnel through heavy investment, paying them much higher salaries than their current salary. Such outflow of talents is more obvious at universities in central and western China, where the research level is not as strong as those in eastern China.
Ma believes that an income ceiling should be set up to ensure a more balanced and sustainable management of talents at universities.
Ma's proposals are not only centered on higher education, but also keep a close eye at the issues surrounding targeted poverty alleviation through education and training.
He plans to call for a broader implementation of poverty alleviation by using information technology to assist basic education in rural area.
Despite the overall level of basic education in rural China improving greatly in recent years, some poverty-stricken remote locations are still badly in need of well-trained teachers and education resources.
Ma said that information technology could make up for the shortage so that students and teachers in rural areas can have equal access to high-quality education resources.
He added that education through information technology methods should be promoted not only in schools but also to farmers, which will help them fight poverty through education.
Central China Normal University has taken an active role in carrying out pilot projects in cities in Central China's Hubei province and yield good results.
Talking about the problems of targeted poverty alleviation through education, Ma pointed out that the pilot experiments in rural areas in different parts of the country are not guided by a coordinated mechanism to enhance connectivity and the summary of experience is insufficient.
Poverty relief is high on China's 2016-2020 agenda, and the government has vowed to lift everybody out of poverty by 2020.
"Making sure children of impoverished families enjoy access to high-quality education is a fundamental solution to poverty," President Xi Jinping said during an inspection tour of the city of Zhangjiakou in Northern China's Hebei province.
In this year's proposal, Ma called for a national policy to provide stronger financial support and roll out official guidance for such projects and achieve a more balanced development between cities and rural area.