Aim high for Olympics, Xi urges athletes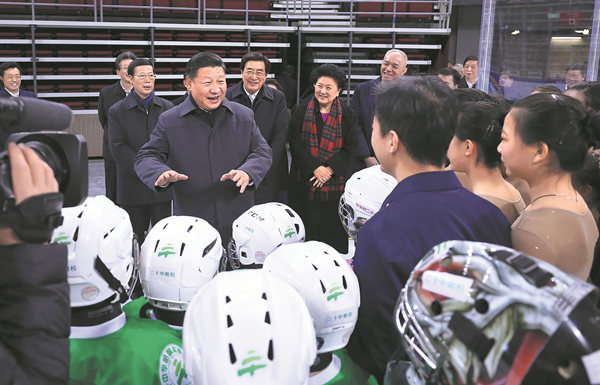 President Xi Jinping talks with elementary school ice hockey players and other athletes at the Wukesong Arena in Beijing on Friday.LAN HONGGUANG / XINHUA
President Xi Jinping urged organizers on Friday to host an outstanding Winter Olympics in 2022 while calling for balanced development of winter sports.
Xi visited the Wukesong Arena and Capital Gymnasium, venues for the Beijing 2022 Winter Olympics, to listen to briefings on preparatory work and watch the training of winter sports teams.
He said the 2022 Beijing Olympics will be an iconic event and should be hosted in a sustainable, open-minded and frugal way with a lasting legacy.
"The 2022 Olympics will provide a good opportunity to develop our country and boost the national morale. The preparation and organization should follow rational planning, and we should learn from overseas expertise and use resources frugally," Xi said during a meeting attended by members of the organizing committee and other departments on Friday.
Xi also stressed the importance of post-event use of venues and said the 2022 Olympics must be free of corruption.
Beijing, host of the 2008 Summer Olympics, and Zhangjiakou, Hebei province, won the rights in 2015 to host the 2022 Winter Olympics. Beijing also will become the first city in the world to hold both winter and summer Games.
Earlier on Friday, Xi talked about winter sports improvement.
He also witnessed training sessions of a junior ice hockey team and the national short-track speed skating and figure skating squads at the two venues.
"Our athletes perform well in ice-based events while lagging behind in skiing events. We have to ... boost the overall level of winter sports," he said after meeting athletes who had just returned from the Asian Winter Games in Sapporo, Japan.
As of Friday, the Chinese delegation had won 14 gold medals to stand second in the medal tally, after host Japan, in Sapporo. The games end on Sunday.
China won three gold, four silver and two bronze medals, ranking 12th in the medal tally, at the 2014 Winter Olympics in Sochi, Russia.
Xi hailed the national athletes' fighting spirit and hard work on Friday while encouraging them to compete for better international results.
At the end of an ice hockey scrimmage by a group of elementary school students from Beijing, Xi shook hands with each of them while praising their skills.
"I hope some of you will make your way to the national team in the future," he said.
There are 2,000 junior players registered with the Beijing Ice Hockey Association, reflecting the growing popularity of the sport among youth and increasing public awareness of winter sports in China after Beijing won the 2022 hosting rights.
Inspired by Xi, China is rolling out a national plan to involve 300 million people in winter sports and related activities by 2022.
Zhao Hongbo, head coach of the Chinese pairs figure skating team who briefed Xi on the development of the sport on Friday, said Xi's interest and instruction were inspirational.
"He listened to the briefing very carefully and asked questions. His presence motivated us greatly," said Zhao, who won a gold medal in figure skating with partner Shen Xue at the 2010 Vancouver Olympics.
Contact the writer at sunxiaochen@chinadaily.com.cn