Foreigners in Tibet 'really happy' to be given green cards
Having lived in the Tibet autonomous region for six decades, Konchok Dargyi has long considered himself a local, but now, it's official.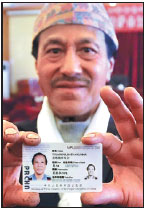 Tuladhar Ratna Kumar, a Nepalese citizen, shows his permanent resident's permit on Wednesday.Daqiong / China Daily
The Nepalese citizen, who has been a resident of Lhasa, the regional capital, since he was born, was among 118 foreign residents who received a "green card" from the city authorities on Wednesday.
"Getting the permanent resident's permit makes us really happy," the 62-year-old said at the presentation ceremony. "Now we can enjoy health insurance like local residents do."
Norgyal, head of the Lhasa public security department's exit-entry administration bureau, said most of the new green-card holders were born in Lhasa, but had inherited a different nationality from a parent.
Due to their status, some of them have encountered problems with healthcare, housing, schooling and employment, he said, adding that with a green card, they can now enjoy many of the same rights enjoyed by native residents.
Konchok Dargyi said he was excited at the prospect. "We believe such problems will not be an issue anymore," he said.
Tuladhar Ratna Kumar, also a Nepalese citizen, has been selling Nepalese handicrafts in Lhasa for more than three decades. He said, "With the green card, we will get many benefits from the local government, such as being covered by health insurance."
The group that received green cards on Wednesday included Swiss, French and Nepalese nationals. Previously, Lhasa had issued just 31 green cards since 2008.
Wu Xingming, head of the Tibet Public Security Department's Exit-Entry Bureau, said his office will continue to help foreign residents to apply for green cards and provide better services to help card holders fit into the local community.
The Chinese government began to issue green cards in 2004, but in recent years, the policy has undergone reforms to help streamline the system. According to the Ministry of Public Security, 1,576 foreign residents became permanent residents in China last year, an increase of 163 percent compared with 2015.
Contact the writers at palden_nyima@chinadaily.com.cn