Girl, 8, gains weight to donate bone marrow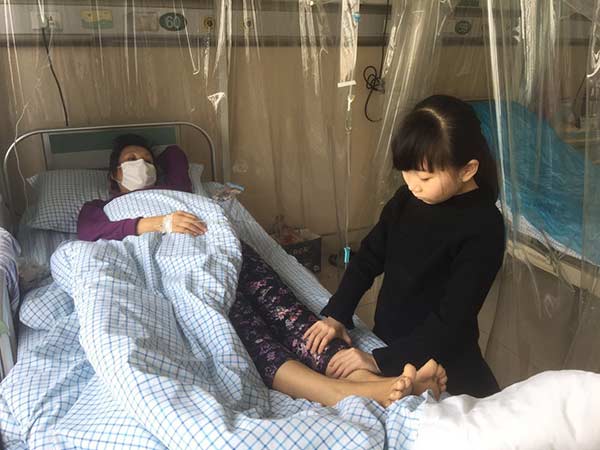 Xiao Huixuan rubs the feet of her mother at a hospital. [Photo/chinadaily.com.cn]
An 8-year-old girl in Shouguang, Shandong province, has gained more than 5 kg in less than two months so that she can donate bone marrow to her ailing mother.
Ba Lili was diagnosed with leukemia in 2015. After undergoing various different treatments, doctors suggested that she have a bone-marrow transplant in November.
Of all her relatives, only her daughter Xiao Huixuan had bone marrow that matched, but she could not donate until she put on an extra 5 kg. Now she weighs 29 kg.
After two months of bulking up, Xiao underwent bone marrow extraction for the first time on Feb 14 at Peking University People's Hospital in Beijing. Because of her age, she could not have any anesthetic.
"It's painful, but I tried my best not to cry because my mother would be sad if she heard me crying," said Xiao.
Ba said her daughter had encouraged her to be brave and would often tell her how much she loves her.
Next week, Ba will receive her first transplant and Xiao will undergo another bone marrow extraction.
"I will endure all of the agonies as long as my mum can survive," said Xiao.