Top court actions helped villager who illegally purchased corns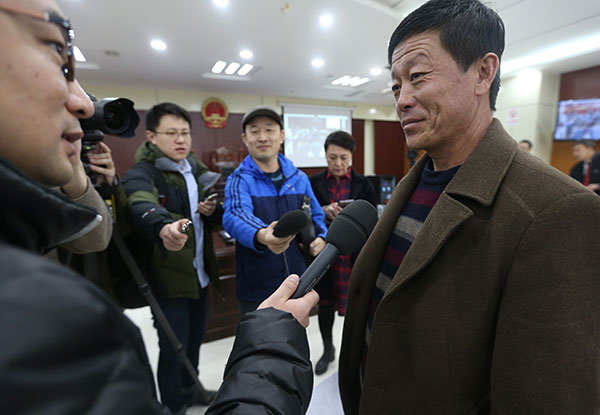 Wang Lijun accepts interviews after he is announced as innocent at court in the Inner Mongolia autonomous region on Friday. HEI KE/CHINA DAILY
A villager who was penalized for illegally purchasing corn was pardoned on Friday at a court in the Inner Mongolia autonomous region.
The intermediate court in the region's Bayannur city overturned the original judgment and announced Wang Lijun innocent.
Wang, who was sentenced to one year in jail with a two-year reprieve, showed his excitement after the announcement, saying, "I'm happy with the result".
The 46-year-old villager was given the sentence during the first trial at Linhe District People's Court in the city on April 15 after he was said to have obtained 6,000 yuan ($874) in profits by purchasing corn without a business license between November 2014 and January 2015.
The court also fined him 20,000 yuan.
The villager handed the fine to the court and did not appeal to a higher court at that time.
But after a review, the Supreme People's Court made a decision on Dec 16, asking the city's court to retry the case over the erroneous application of law by the district court.
Wang Dianxue, the villager's attorney, applauded the national top court's decision, "as it is a duty for judicial authorities to have a retrial if they find something wrong in verdicts".
"The seriousness of the case is not big enough to be defined as a criminal case. The purchase didn't disturb public order," the attorney said. "It's a kind of an administrative violation or it doesn't need to be criminally penalized."
The fact that the top court took initiative to correct wrongful convictions without requiring an appeal should be encouraged, he said, adding "which is the bigger significance of the pardon".
He said that he was glad to witness his client pronounced not guilty, "because the evidence of his corn purchase made it hard to prove he violated the Criminal Law."
The villager said that he did not know what to do after he was sentenced.
"I was afraid to say I was innocent, as I worried I might be jailed," Wang Lijun said.
"But now the top court proved me not guilty," he said.
Ruan Qilin, a law professor at China University of Political Science and Law, said the correction reflects the rule of law, adding that it will guide courts to strictly apply criminal charges when penalizing people.