Shijiazhuang sets target for reducing major air pollutants
Shijiazhuang, a city in Hebei province chronically plagued by smog, has set an ambitious target to cut the density of fine particulate matter in the air by more than 20 percent this year, which will require stricter controls on industrial production, especially for iron, steel and cement.
The action plan, released on Tuesday, stipulates that the average concentration of PM2.5 - particulate matter with a diameter of less than 2.5 microns that is harmful to health - will be lowered to 79 micrograms per cubic meter, a year-on-year drop of 20.2 percent.
The capital of Hebei province, which had the second-highest air pollution among the 74 major cities last year, has seen frequent severe smog since November.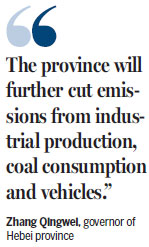 In order to achieve the large drop in PM2.5, the city will cut iron production by 520,000 metric tons this year, and relocate iron and steel plants out of downtown areas.
In addition, the plan states that all iron and steel plants should follow the strict emission standards by Sept 1, and production at half of them will be suspended during the heating season, which runs from Nov 15 to March 15.
Other polluting industries will also face tough restrictions.
For example, the city will cut its cement-making production capacity by 26 percent within three years, and this year, it will reduce capacity by 350,000 tons.
In other industries such as glassmaking and stone processing, 20 percent of plants will be shut down this year.
The city will further cut coal consumption by 3 million metric tons, and encourage the use of gas and electricity, according to the plan.
In addition to the ambitious reduction target for Shijiazhuang, the whole of Hebei is aiming to further control air pollution this year, though it has already reached the national target, said Zhang Qingwei, governor of Hebei.
According to the Action Plan on Air Pollution Control and Prevention, the PM2.5 reading in Hebei this year should be 25 percent lower than 2013 levels.
Hebei managed to reach that target last year, when the average concentration level of PM2.5 was lowered to 70, a reduction of 35.2 percent.
"The province will further cut emissions from industrial production, coal consumption and vehicles with unremitting efforts," Zhang said.