Tourism provides chance for prosperity around cliff village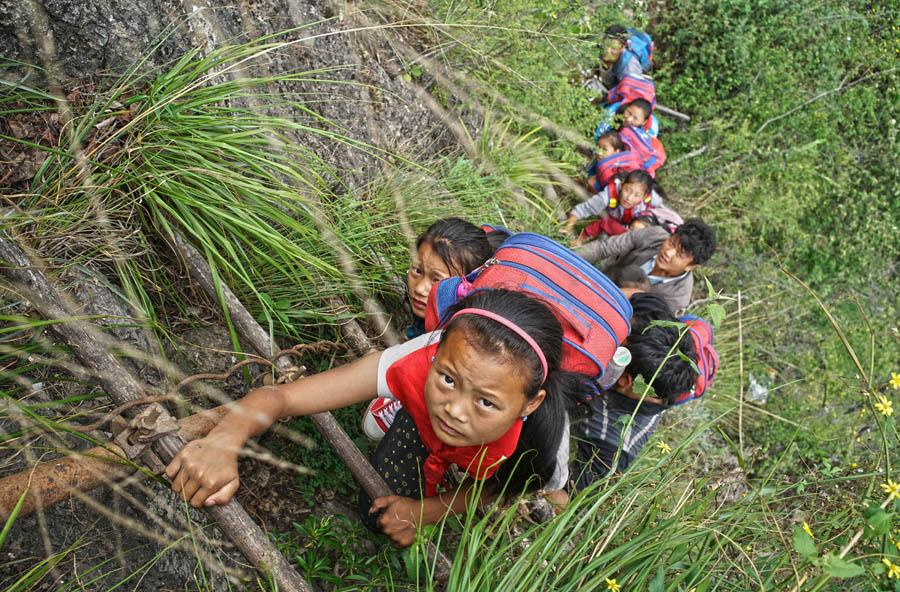 Children climb a vine ladder on their way home, May 14, 2016. The children study at a school at the foot of the hill and go home twice a month. [Photo/VCG]

The mountaintop village in Southwest China where children used to climb rattan ladders up and down the 800-meter cliff will be at the center of a tourism and poverty relief project, a village official said.
"We will build the village with traditional Yi people's customs. Visitors can reach the village by the path along the cliff and cableway to experience its uniqueness," the village official Mose Zigu said about the future plan.
Atule'er village in Zhaojue county of Liangshan Yi autonomous prefecture in Southwest China's Sichuan province became more well-known after photos of children climbing rattan ladders to get home shocked many in May.
The village, home to 72 families, is known as "cliff village" because its vertical distance to the ground is 800 meters. Previously, the only routes leading to the outside world were the 17 vine ladders.
A steel ladder with handrails was completed in November costing one million yuan ($148,000), with the prefecture government and Zhaojue county sharing the cost equally.
A tourism company from Chengdu, capital city of Sichuan, has signed contracts to develop the tourism project around the cliff village in two phases, with an initial investment of 300 million yuan, Mose Zigu told the West China Metropolis Daily, a local newspaper.
The tourism bureau of Zhaojue county confirmed that the first phase of the project has been launched, which involves establishing a visitor center, a cableway to the cliff village, a path and bridge along the cliff, a path along Guli canyon and other facilities.
The tourism infrastructure of the village will be an important part of the Daliangshan mountainous area's development plan that will lift the village and other nearby villages out of poverty, according to a prefecture's outline.
Mose Zigu said that the village has benefited after the steel ladder was finished. Six outside women married into the village and local villagers are also attempting new things to make money, including raising sheep and making liquor.
"We have been continuously considering ways to help villagers make money," Mose Zigu said, and the tourism development will be at the core of reaching the poverty relief target.