Firework sales drop for sixth year in a row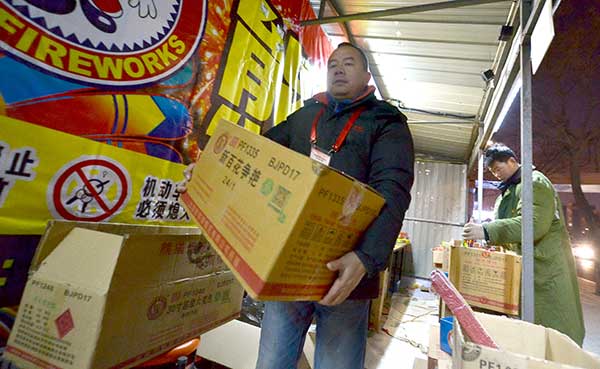 A fireworks stall owner withdraws his products in eastern Beijing's Sihui area on Feb 1, the last day of the capital's sales period for fireworks and firecrackers.Guo Qian / For China Daily
Fewer people celebrate Spring Festival with a bang as city calls for cleaner air
Sales of fireworks and firecrackers continued on a downward trend this year, with sales in the capital falling by more than 30 percent, marking the sixth consecutive annual decline since 2012, the city's fireworks authority said on Monday.
The reason for the decline was because residents had responded to the authority's call for a reduction in the usage of fireworks, it said.
"Fireworks are not essential for creating a festival atmosphere. We can also hang lanterns to celebrate in a traditional manner," said Zhang Zhenyu, a resident in the capital's Chaoyang district.
The 30-year-old said he hasn't set off fireworks since his daughter was born three years ago. "My daughter often gets sick during smoggy weather. Setting off fireworks could result in smog, and I don't want my daughter, or others, to get sick," he said.
Beijing experienced heavy smog on Saturday after a firework frenzy marked the end of the annual Spring Festival celebrations with a bang.
The period, which starts on Chinese New Year's Eve and ends on Lantern Festival - this year running from Jan 28 until Saturday - is the only time fireworks are allowed to be set off within the Fifth Ring Road.
According to the city government, more than 791 metric tons of waste from fireworks and firecrackers were cleared during the period, a decrease of 18.9 percent year-on-year.
Air quality data showed concentration levels of PM2.5 - fine particulate matter measuring 2.5 micrometers or less in diameter, which is hazardous - increased as families marked the end of the festivities in traditional style.
The concentration level of PM2.5 in the capital's southwest was 76 micrograms per cubic meter at 6 pm. By 8 pm, it had risen to 203, and an hour later, it hit 335, according to the Beijing Municipal Environmental Monitoring Center.
The highest concentration recorded was 820 at the Xizhimen monitoring station on the Second Ring Road.
The center said 16 percent of PM2.5 was caused by potassium ion, which is produced by fireworks.
Smog is forecast to hit parts of northern and central China on Tuesday, including Beijing and Tianjin, and the provinces of Hebei, Shanxi, Shandong and Henan, the Ministry of Environmental Protection said on Monday, adding that it is expected to linger until the arrival of a cold front on Thursday.