Offering a helping hand to those in greatest need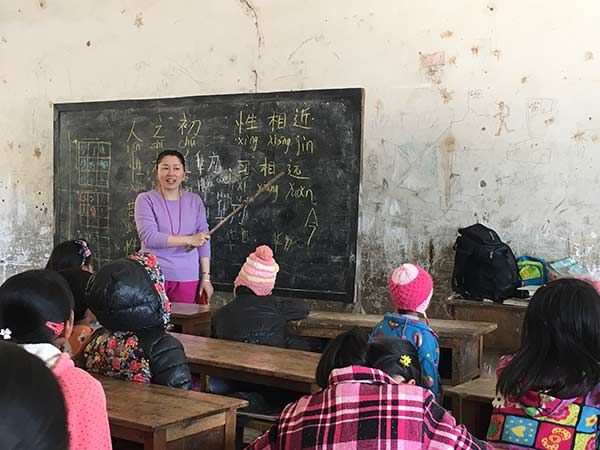 Lu De gives a Chinese lesson to children living in the Muguaba refugee camp in Myanmar.Photos Provided To China Daily
Psychotherapist volunteers in Myanmar refugee camps over Lunar New Year
For the past two Spring Festivals, psychotherapist Lu De's holidays have been different from most.
Instead of spending the vacation in her hometown of Changsha, Hunan province, Lu has traveled to the war-torn state of Kachin in Myanmar to volunteer.
She was inspired to make her first visit by a photograph a college classmate showed her last year, depicting the dire conditions in the refugee camps.
So Lu gathered together four like-minded friends and drove four days to Daluo in Yunnan province, on the border with Myanmar.
After crossing into the country, they went to an orphanage and began working with the locals, providing consultations and training.
"At first, I was simply curious about what their lives were like and I wanted to go there to have a meaningful Spring Festival," said Lu, who ended up staying in the country for nearly a month.
"Everyone there was in a state of panic because of the war, but they also have hopes for a better life and a peaceful world."
The conflict in Myanmar consists of a series of ongoing insurgencies that began shortly after the country gained independence from the United Kingdom in 1948.
It has been described as one of the world's longest-running civil wars.
This year, Lu returned to Myanmar and volunteered at the Muguaba refugee camp home to thousands of displaced people, including hundreds of children.
The scarcity of materials and the general condition of the camp shocked her. It had a school constructed from nothing more than sticks and wooden boards, and there was only one doctor and one nurse to provide medical care in the makeshift clinic.
"I have more medication in my household medicine cabinet than they had there," Lu said.
"The minute I got there, I heard a boom and thought it was to celebrate the New Year, but everyone around me began to look for shelter in panic-that's when I realized these were explosions, not fireworks."
Despite the food shortages, Lu was able to find some pork, chicken and fish, which she bought for some of the children to enjoy a New Year's Eve dinner at the school, while she sat and ate roast potatoes.
"That's the only time I saw pork during my entire stay," she said.
Each day, she gave lectures to the children and made house calls to conduct consultations.
One man in his mid-30s she spotted hanging around people's homes looking for food had undiagnosed clinical depression, which began to improve once Lu met with him and taught him some coping mechanisms.
"It might seem like I am just consulting with them, but they have also helped me to appreciate life more," she said.
"I used to complain a lot, but my experiences there have changed me greatly."
Lu was particularly moved when the time came to leave.
"Everyone came to hug me and a girl, who was always shy, timidly came to shake my hand," she said.
Next Spring Festival, Lu plans to recruit 100 volunteers to help out in the camps, hoping that the extra manpower will allow her to "do things better".
"I came back with a renewed appreciation for the plight of the Myanmar refugees and love for my Chinese friends," she wrote in a social media post after returning to China.
"Though I came back in haste and in darkness, I don't feel tired at all."
Contact the writers at liangshuang@chinadaily.com.cn