Snapshots of Chinese celebrating Spring Festival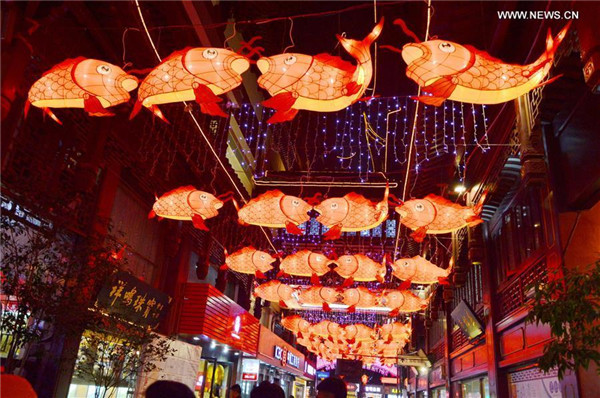 People visit a lantern fair in Yuyuan Garden of East China's Shanghai on Jan 25, 2017. Decorations and festive lanterns in many places of China were illuminated to greet Spring Festival that started on Jan 28 this year. [Photo/Xinhua]
BEIJING - Spring Festival is the most important festival in China, and while the event centers around time spent with the family, this is not the case for everyone.
LONELY FESTIVAL
Xiao Liang, 13, was inconsolable when he was told that his parents would not be spending Chinese New Year with the boy and his grandparents, in Wenxi county, Shanxi province.
The decision by his parents, who work in factories in east China's Jiangsu province, was not taken lightly, as they knew how sad it would make their son. Last year, he traveled to Jiangsu, but they only had a few days off this year and the journey would have been long and arduous for the boy.
"Two days ago, I dreamed of my father and mother returning home and together going to visit my aunt," he said.
Luckily for him, even though his parents will not be around, he has plenty of friends and things to do at the local Children's Center, which was set up to care for left-behind children just like him.
Another event for left-behind children was a party in Hohhot, capital of Inner Mongolia autonomous region, where the children attended activities and were presented with gifts.
In China, it is common for migrant workers who go to cities to leave their children in the care of grandparents. Spring Festival is one of the few opportunities that families can be together.