Lonesome lives
Rural China continues to battle an emotional void even as a new government survey reassesses the number of children of migrant workers left behind
Spring Festival will be celebrated by Chinese at home and abroad in two weeks. A good number of the country's more than 200 million migrant workers will then return home to smaller cities and villages, bearing gifts for the children whom they have left behind in their pursuit of jobs in bigger cities.
A central government survey released in November suggests China now has 9 million children at or under the age of 16 whose parents work away from their domiciles. In 2013, the All China Women Federation, a government-backed agency had said the country had 60 million such children under the age of 18.
Analysts say the new survey's methodology is different from the previous one in terms of the children's age as well as the categorization of absent parents. Some sociologists expect an actual decline in the number in coming years, with signs of family migrations already in sight.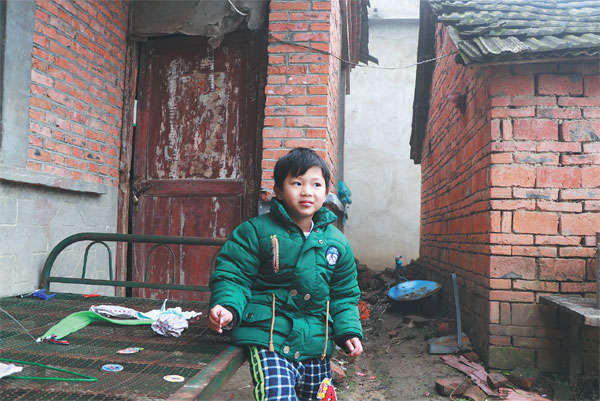 Zhou Junhao, 6, lives with his grandmother, Song Jinlan, a widow, in Fuyang's Wuli village, Anhui province. Zhou's parents live and work in Hangzhou and send about 1,000 yuan a month to Song for child care and other expenses. [Photo by Zhu Lixin/China Daily]
But a visit earlier this week to East China's Anhui province, which is among the top inland areas for outward migration, showed that on the other side of the country's economic boom lie villages and small towns that continue to battle a deep emotional void.
In rural patches of Fuyang, a large municipal-level city located at more than 200 kilometers to the northwest of provincial capital Hefei, most residents are elderly people and their young grandchildren. Here, the working age population is simply missing.
Hundreds of empty houses etched across farmlands provide further testimony to it.
In the Houyuan neighborhood of Wuli village, for instance, more than half of the 22 households have children in the care of their grandparents. And, in adjacent Dongzhou, of the settlement's 65 residents, the majority face a similar situation.
Local government officials estimate 2.8 million people from Fuyang's population of 10 million live in different parts of the country.
Guo Lin, chairwoman of the Fuyang Women's Federation, a local body, says the migrants mostly move to wealthier provinces such as Zhejiang and Jiangsu, also in the east, and Shanghai, working low-level jobs in manufacturing, services, construction and other sectors. As a result, 179,000 children under the age of 18 have been left behind here, she says.
The term used to describe such children emerged from the so-called left-behind wives whose husbands had migrated from Anhui and other provinces such as Sichuan, Henan, Guizhou, Hunan and Hubei to mainly coastal cities in the 1990s. In the following decade, the women themselves started to migrate.
A large number of female domestic helpers in Beijing came from Anhui back then.
"The 2016 survey considers the legal working age of young Chinese and of families where both parents have migrated," Guo says of the differences between the new central government study and ACWF's 2013 survey that counted such children even when one parent was missing.
Sociologists have previously also studied migration patterns in the rural reaches of relatively affluent places such as Chongqing and Guangdong province.