Worker hopes for homecoming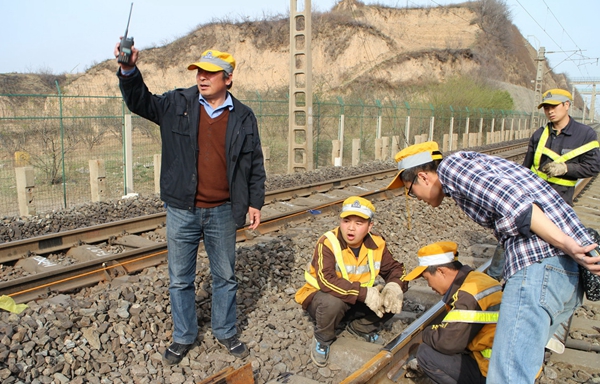 Yang Jingxing (left) and his colleagues work on repairing a section of railway in Shaanxi province last year. [Photo/CHINA DAILY]
Railway employee doesn't know if he can dine with his wife during holiday
Yang Jingxing and his wife Li Yawen started working for the Xi'an Railway Bureau as railway maintenance workers in 1980 and got married in 1985.
Since 2002, however, Yang has never enjoyed Spring Festival at home, even when his wife was bedridden for almost four years after a car accident in 2011.
Yang became director of the bureau's Huashan workshop-more than 100 kilometers from Xi'an-in 2014 and he could get back home only twice a month.
Yang carried his wife to his work site, but instead of it affecting his job, his team of more than 100 workers were praised as the best in the bureau for two years. Meanwhile, he helped his wife walk again.
In Huashan workshop, Yang has to get up around 4 am to get prepared to patrol a 40-kilometer stretch of railway.
"The trains don't run for about two hours and we have to make full use of the time. From 4:30 pm to 6:30 pm, we have to do the work again," he said.
It doesn't necessarily mean that they don't work at other times.
"The railway system is managed in a very strict way. We have to analyze the malfunctioning equipment and figure out who should be responsible for the problem," he said, adding his work leaves him only about seven hours for sleep.
When his wife was in hospital, Yang worked even harder. After emergency treatment of 15 days, her right leg remained paralyzed. Every day, Yang carried his wife on his back to the physical therapist, and then with their legs tied together he helped her regain the ability to walk, he recalled.
"She has been trying to cook some simple food. In the afternoon, she cooks some porridge and then I bought some dishes from our canteen for supper. She would like me to eat better," he said.
With the 40-day Spring Festival travel rush that began on Friday, Yang has to work much harder to make sure trains run uninterrupted to transport the large number of passengers heading back home for the holiday.
Pressed by his work, and also because of the low temperature in the dorm, which hurts his wife's leg, Yang sent his wife back home.
"She told me she would like to cook some dishes to celebrate Spring Festival. But I have yet to know if her wish will get fulfilled as I usually have to be on duty that day," Yang said.