Profile in courage: A teenager who lives by herself
Fan Xiaohui's mother mostly manages to reach her daughter over phone but the same can't be said of Fan. There are times when Fan's calls to her mother go answered because her parents work at a supermarket in Beijing and she lives in Taihe county in the outskirts of Fuyang, a large city in Anhui province.
The 15-year-old, who has been living here since the past three years, is among the 4 percent of 9 million "left-behind" children in China who are deprived of adult supervision by a close family member on a daily basis. Theirs is a story of heartbreaking reality.
Some sociologists argue that the percentage of such children is lesser than what estimates show, but these cases even if in the minority, are of grave societal concern.
While she understands her mother's inability to receive phone calls at work, or the fact that her parents and a 10-year-old brother live in a crammed room in the capital's Haidian district, Fan is working hard to cope with the psychological fallout from the family's decision to send her to Fuyang to continue her school education.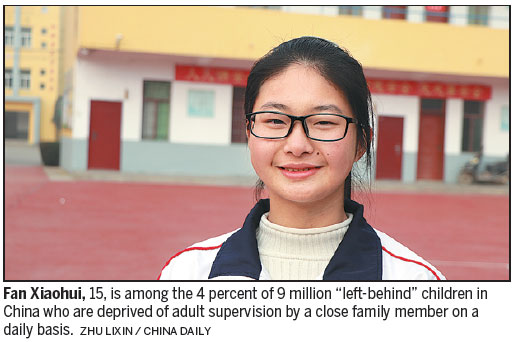 The bespectacled girl, whose bright smile seldom betrays her pain, was born in Huzong village in the same county. When she was aged 3, her parents, now both in their late 30s, migrated to Beijing along with her. There she studied for a few years in a school for the children of migrant workers but eventually her parents realized Fan needed better access to resources that her hometown could provide.
She was then enrolled into the Central School of Huzong Township in Fuyang.
In China, migrant workers aren't often able to send their children to schools of their choosing in host cities because of the household registration system or hukou.
A reform of the system has been urged by many and could be expected in the long term.
Fan lives in a furnished apartment that belongs to a relative who only occasionally stays in it.
A typical weekday in her life involves waking up; going to school, which is a few minutes by foot; studying and eating meals at school; playing chess and reading Russian authors at leisure; and "meeting" childhood friends on social media, most of whom are the so-called left-behind children.
On weekends, she visits her ailing grandfather in the nearby village of her birth, where he lives in a dilapidated house. Fan can't live in it, she says, "it's falling apart".
She doesn't need to shop for grocery or cook. She probably washes her own clothes and does daily chores that aren't unusual for any teenager. When China Daily meet with her earlier this week, the interview was brief as she was studying for an upcoming exam. More questions that could have provided a deeper glimpse into her life couldn't be asked owing to a shortage of time.
Used to life in the big city, Fan initially struggled to adapt to her new semi-urban existence. She was also afraid to live alone, she says. But her school seems to have played a significant role in easing her situation. Of a total 775 students here, 543 are children whose parents work in cities outside of Fuyang.
Guan Dongkui, the principal, says his school acts as a second home for such children. "We help them fight loneliness."
Fan's parents and sibling usually visit her during the weeklong Spring Festival holiday. She also travels to Beijing when schools are shut for weeks in summer.
"I don't have real dreams yet because dreaming isn't always practical," she says, with the wisdom of a person who has been forced to grow up ahead of her time.
But Fan isn't totally dismissive of the future either. She would like to travel the world if she makes enough money, she says.
Zhu Lixin contributed to this story.