Reform strengthens rule of law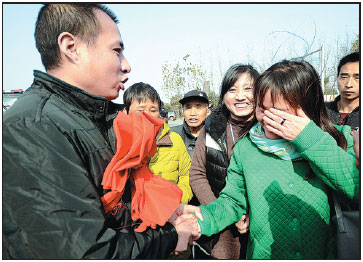 A relative of Cheng Fagen cries with joy while holding Cheng's hand outside a court in Nanchang, Jiangxi province, after Cheng and three other men had their convictions for murder, rape and robbery overturned on Dec 22, following 13 years in prison.Provided To China Daily
Convictions overturned
Twenty days after Nie was declared innocent, four men from Jiangxi province, who had been convicted of rape, a double murder and dismembering a body, also had their convictions overturned because the case against them was inconsistent and there was insufficient evidence to uphold their sentences.
The cases inspired China's legal professionals, who saw the reversals as prime examples of the principle enshrined in China's Criminal Law that proceedings should be halted if there is any suspicion that a case is flawed. As a result, they redoubled their determination to correct judicial errors.
Liu Weidong, deputy head of the Jiangxi Lawyers' Association, said legal officials should never use improperly obtained evidence, and emphasized that the rights of defense lawyers should be protected.
In 2005, when he began to help Nie's family with the appeal, Li was 41. Now, he is 52 and his hair has turned gray.
"About 10 years ago, I was energetic and had long, black hair. But now, I have become an old man," he said. "Time moves so slowly, but it also flies. The hardest time was when I went to the court in Hebei to examine the materials related to Nie's case. I was refused permission to see the judgment, let alone the related archives," he said.
Frustration
Dressed in a dark-blue suit and wearing gold-rimmed spectacles, Li is an easygoing, urbane conversationalist, but that hasn't always been the case in his professional life, especially during the fight to clear Nie's name.
"You can't imagine how I felt - I was frustrated all the time, which almost sent me crazy. Once, as I walked down a street, I looked at the pale sky and it reminded me of Nie's mother's eyes. I felt such despair," he said. "Sometimes I felt the need to shout out loud because I couldn't find any other way of releasing my frustration."
When the case failed to progress for several months, Li fell into a deep depression, so he visited a temple in an attempt to ease his mind. "I wanted to find inner peace that could help me handle the case with a good attitude, no matter where the pressure came from," he said.
In 2007, Li was finally given access to the court judgment. He compared his excitement to the day he received the letter informing him that his college application had been successful.
After 2013, when the central leadership began promoting the rule of law and judicial reforms, Li wrote thousands of words to prove Nie's innocence. In 2014, in a move designed to prevent interference by the government in Hebei, the Supreme People's Court ordered the Shandong Provincial High People's Court to review the case. The Dec 2 ruling was announced by a branch of the Supreme People's Court in Shenyang, Liaoning province.
For Li, the news signaled a major change of approach by the legal authorities. "In the past, rule of law was just slogan to me, but now it is the reality," he said.
During the review process, Li accompanied Nie's mother to the court in Shandong several times. "We were treated warmly and my rights were fully protected," he said.
"I was not only allowed to go through the materials related to Nie's case, but also Wang Shujin's. As a criminal lawyer, I felt respected and protected. That's how the rule of law has progressed, and I hope the improvements will continue as a way of protecting everybody's rights."