Premier's visit shows road to innovation for street businesses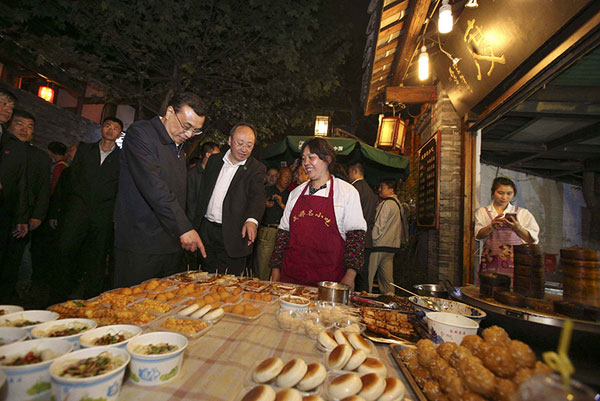 Premier Li visits the Kuanzhai Ancient Street in Chengdu in April 2016. [Photo provided to China Daily]
An unexpected visit in April by Premier Li Keqiang to Kuanzhai Ancient Street, a cultural hotspot in downtown Chengdu, capital of Sichuan province, has inspired venders and private business owners to expand their vision for innovation.
A book and two postcards the Premier purchased in Jianshan Bookstore on April 25 have joined the ranks of best-sellers as hundreds of copies were sold following the visit.
The book, written by a local writer on cultural diversity, sold out completely several days later, said Liao Yun, founder of the bookstore. "The premier supported real-economy stores with real actions, which was very encouraging to us," she said.
The premier stayed more than 10 minutes in the store and Liao was impressed with his interest in local culture and inspirational encouragement for innovative products and operations.
One of the two postcards was black and white, the other color. "I remember the premier said the black and white postcard represents the past, while the color represents the future. He also gave us confidence to focus on innovation and creativity," Liao said.
Hundreds of visitors have consequently swarmed into the bookstore to buy the book and postcards, Liao said.
During the past eight months, Liao's bookstores, including Jianshan, have promoted a series of books about literature and arts in Chengdu, along with innovative cultural products featuring in famous local historic collections in cooperation with Chengdu Museum.
The bookstore, only covering about 40 square meters, is located in one of the 45 courtyards on the street that has attracted more than 150 enterprises, including at least 30 focusing on cultural innovation. The stores in the street, which symbolizes Chengdu's vibrancy, provide more than 3,000 job opportunities each year, and more than 17 million visitors spent 300 million yuan ($43 million) last year.
Other stores also enhanced their reputations after the premier's visit, including Lonely Ding's Coffee, a café not far from the bookstore.