PLA's media volley seeks young recruits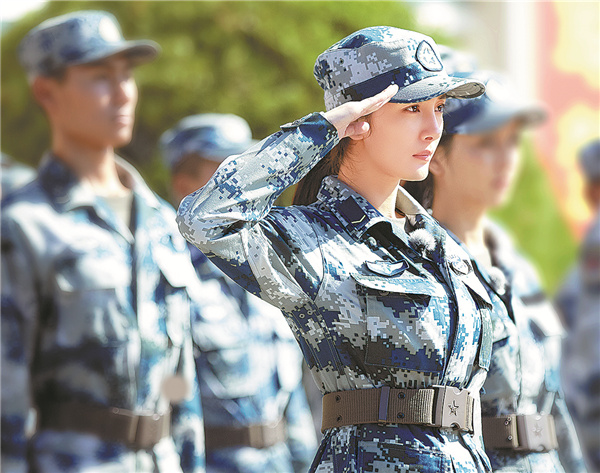 A reality show that puts Yang Mi, a Chinese actress, in military training is made by Hunan TV in cooperation with the PLA's film production arm and the Air Force. [Photo provided to China Daily]

To build a modern military, the People's Liberation Army is making full use of the 21st-century tools in its arsenal to attract new recruits.

Action-packed advertisements, hit reality shows and flash mobs, as well as a greater social media presence, have gone a long way in helping the military soften its image and reach young audiences.

The most effective weapon has arguably been Takes a Real Man, a reality show that puts celebrities through the rigors of military training. The show is made by Hunan TV in cooperation with August 1st Film Studio, the PLA's film production arm, and the Air Force.

The second season shot to No 1 in the ratings after the first episode was aired in October, according to State broadcaster China Central Television.

Featuring stars such as actor Wang Baoqiang, actress and singer Yang Mi and Olympic swimming champion Sun Yang, the show has struck a chord with young people and reportedly had a direct effect on recruitment.

A producer interviewed by PLA Daily, the military's official newspaper, said that while filming the second season in the summer, he met several recruits who said the first season of the show had inspired them to sign up.

Takes a Real Man, based on a similar show in South Korea, aims to portray the lives of service men and women to Chinese audiences and is the perfect tool to raise awareness about national defense, said Chen Yigong, a professor of military theory at PLA National Defense University.

"By showing the celebrities training with the special operations unit, air defense missile battalion, aircraft squadrons and radar units, viewers can get to know the armed forces, boosting their sense of pride in the nation and the military," he said.

In addition, this winter has seen the release of a viral video by the PLA Navy that shows advanced fighter jets and other planes taking off from the CNS Liaoning aircraft carrier to patrol China's territorial waters.

The PLA Rocket Force, which until last year had kept a low profile, also sent members of its song and dance troupe to Tsinghua University in late December to stage a flash mob. This is part of a policy in recent years to recruit more graduates to the military.

However, while ad campaigns and TV shows eventually come to an end, the Ministry of Defense has said its work to engage the public through social media is a long-term commitment.

Wan Binhua, head of the ministry's publicity statistics office, said the PLA values public opinion and has realized the importance of communicating its stance quickly and effectively.

For example, in December, the ministry posted on Sina Weibo about an incident in which it accused Japanese fighter jets of harassing Chinese planes. The message attracted more than 17 million views, Wan said.

"Social media allow us to directly deliver our stance to a wider range of audience in a timely manner," he said. "It is now a crucial part of the ministry's communication apparatus."

Between October and December, the ministry tripled its followers on Sina Weibo to 3.25 million, thanks to "a series of influential and timely responses on hot topics, ranging from the US underwater drone to our carrier battle group making open-sea drills", he said.

The ministry's social media are not just outlets for official announcements, he added, noting that his colleagues also publish human interest stories about soldiers and officers to help the public understand service members' lives, sacrifices and contributions.