Escalator policy abandoned due to safety, maintenance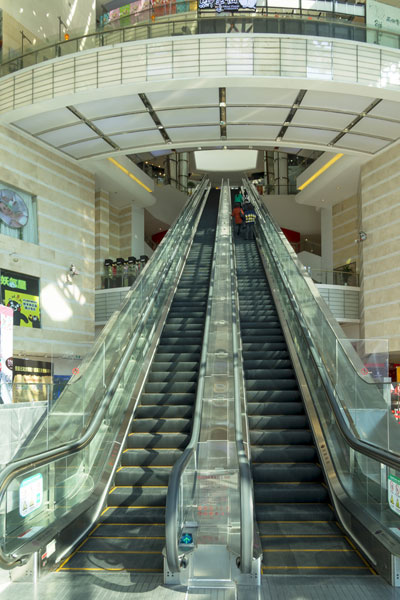 Photo taken on Dec 4, 2016 shows escalators at a shopping mall in Shanghai. [Photo/VCG]
Many Chinese cities have abandoned the "Stand right, walk left" subway escalator policy, which is generally considered basic courtesy, due to safety concerns.
According to Nanjing Subway Group, about 95 percent of the city's subway escalators are severely worn down on the right side, which could lead to malfunctions.
Shi Dajiang, an officer at Nanjing Public Security Bureau's subway branch, said the height of the escalator steps poses a danger to people who walk or run.
"While steps in public are usually about 15 centimeters high, escalator steps are 21 centimeters high, which pose a higher risk of stumbling," Shi said.
Huge passenger numbers have contributed to the abandonment of the policy, according to the subway branch.
In Nanjing, more than 2 million people commute by subway daily, while in Shanghai the number is more than 10 million on working days, according to Xinmin.cn.
"It is causing heavy wear and tear of the escalators," Shi said. "Congestion will become a bigger problem if everybody stands to the right."
Jin Yan, director of the Nanjing Special Equipment Safety Supervision Inspection Institute, said that escalators are not designed to function like stairs.
"National regulations state that escalators must be maintained at least twice a month to ensure safety. But maintenance cannot prevent parts of escalators from being worn out. Standing only on the right side influences the life span of the escalators."
Nanjing subway has removed the "Stand right, walk left" signs and stopped broadcasting the policy, which it promoted from 2010 to 2011.
Many cities in Guangdong province and Shanghai have also abandoned the policy.
To ensure safety, many malls in cities have to frequently reverse the direction of their escalators to even out wear and tear.
However, signs encouraging people to walk on the left side can still be found in some cities, including Beijing, with some people saying that changing the policy will not be easy.
"It has become a rule adhered to by many people," said Zhang Guanjie, a nurse in Nanjing's Gulou district.
"If you stand on the left side of an escalator, many people will frown upon you and think you are rude."
"Though safety comes first, it's not easy to change a habit in one day. The new policy should be promoted to avoid embarrassing situations."