64-year-old woman may be China's oldest mother of newborn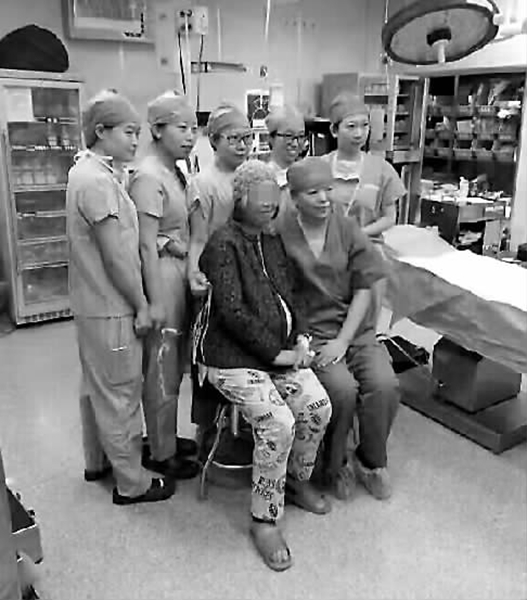 A group photo of the 64-year-old pregnant woman and the medical staff at the delivery room of the Second Hospital of Jilin University, in Changchun, Jilin province, Dec 28, 2016. [Photo/Sina Weibo]
A 64-year-old woman who lost her only child gave birth to a healthy baby boy by Cesarean section and herself remained stable in Changchun, Northeast China's Jilin province on Dec 28.
The news was released by a Sina Weibo user named "Your eyes are not bigger than me", with two photos posted. One photo shows the gray-haired mother looking at her baby and another shows a group photo of the woman and the medical staff in the delivery room at the Second Hospital of Jilin University.
This Weibo piece was widely shared. Many netizens praised the mother for her achievement and sent good wishes.
"She is brave and touches me," said Teng Hong, the doctor in charge of the delivery, adding that the woman got pregnant through in-vitro fertilization and turned to her for prenatal care since the 13th week of gestation, as Xinwenhua News reported.
"She was an elderly pregnant woman and lost her only child previously, so she faced both psychological and physical pressure," Teng said, "But every time she came in for a check, she was smiling and gentle, and was brave enough to face the changes of the whole pregnancy."
Aged pregnant women usually face risky healthy problems. Teng said that the 64-year-old was found to have gestational diabetes in the 28th week and total placenta previa in the 30th week.
As total placenta previa may cause hemorrhage and even become life-threatening, the doctor advised the woman to enter the hospital. "She trusted us wholeheartedly by doing exactly what we told her to do and kept in good spirits every day," said Teng, "When her situation went well, we let her stay at home."
The woman had a C-section on her due date. The operation went smoothly. Though the woman was completely exhausted after delivery, she instantly reached out her hand and touched the Teng's face, saying, "Thanks for your hard work."
"I was really moved at the moment, and my nerves, which were tense for months, were eventually stretched," Teng said.
"The mother and baby are both healthy, and the woman can leave hospital in a few days," Teng, added, saying that the happy ending is a result of the mother's rigorous prenatal care and pleasant mood.
Teng said the woman was the oldest she had accepted as a patient, and may be the oldest across the country so far.
In May, 2015, a 62-year-old woman delivered a baby in Zibo, East China's Shandong province, setting a record of the world's oldest mother to naturally conceive and the oldest to deliver in China, according to the Luzhong Morning Post.
Delivery women who broke world records
Annegret Raunigk, a German, delivered a daughter and three sons at the age of 65 on May 19, 2015, becoming the world's oldest mother of quads.
Indian Omkari Panwar, 70, gave birth to twins, a boy and a girl, through artificial insemination and became the world's oldest mother in 2008.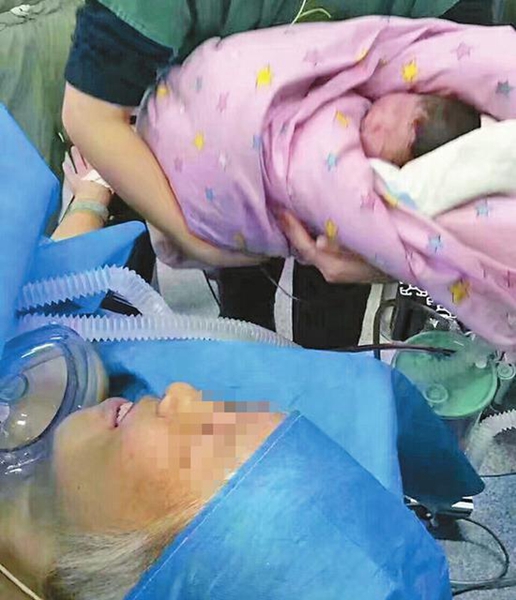 The 64-year-old woman looks at her baby in the delivery room of the Second Hospital of Jilin University, in Changchun, Jilin province, Dec 28, 2016. [Photo/Sina Weibo]