Mother warns of towering learning pressure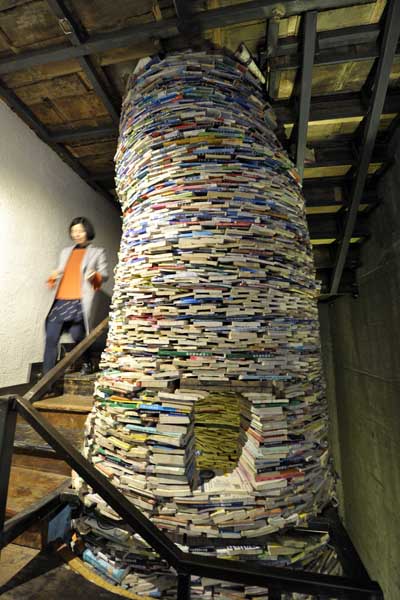 A cafe owner built a two-story tower with 10,000 books in Xi'an, Shaanxi province, as a reminder for parents.[Photo for China Daily] (More photos)
A mother in Xi'an, capital of Shaanxi province, built a tower with about 10,000 books as a reminder to parents not to place too much learning pressure on their children.
Li Yuling, who runs a small cafe near a middle school where her son is a seventh-grader, spent more than a month building the tower next to a stairway to the second floor of the shop.
"My assistant and I made the tower with about 10,000 books, all secondhand teaching materials and learning guidance books," Li said.
The tower is 6 meters tall and 2 meters in diameter and reaches from the ground floor to the ceiling of the second floor.
There is an arched door at bottom and holes interspersed in the middle for people to look inside the tower.
"I bought the books with more than 30,000 yuan ($4,337) from nearby secondhand book stores. I want to tell parents of kids studying in middle school not to put too much pressure on them with their studies," she said.
Li said she planned to open the cafe in 2015 when her son was busy going to various extracurricular classes to improve his test scores so he could get into a good middle school.
"The whole year, I was worried about my son's academic performance and healthy growth. And I really want my kid to have less of a learning load and more time to play games and go out for fun," she said.
Another mother surnamed Zhang, whose daughter is an 11th-grader in high school, said she agreed with Li's thought but did not think student's learning loads could be lessened because they face serious pressure to get into good colleges.
"All Chinese parents want their kids to be in better schools from primary school to university, which can affect their future and happiness. So they have to bear the learning load," Zhang said.
Feng Yingchun, an education psychologist and instructor who has long focused on children's psychological problems, said students' schoolwork distorts normal life in some families, and parents should stay alert for any emotional problems their children might develop from excessive learning pressure.