The tech stars of tomorrow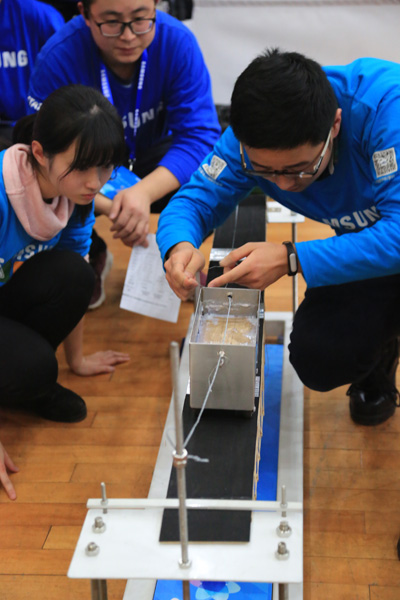 Participants test their bridge in the security protection section. [Photo by Liu Xuan/China Daily]
After five months of intense brainstorming and competition, six teams made it to the championships and were awarded for their creations in the final round of an innovation contest at the China Science and Technology Museum in Beijing on Thursday.
From across the country, 54 teams from both high schools and universities competed for the final places of the National Youth Scientific Innovation and Experiment Contest.
These young innovators blew people's minds with their bold ideas and inventive works.
In the section of innovative work, students from Xidian University brought an auxiliary system that applies virtual reality (VR) into the preoperative planning of a liver cancer operation. The team used VR technology to transfer two dimensional CT or MRI photographs into 3D images in hopes of creating a virtual yet vivid operation environment for doctors.
"There are very limited resources for doctors to practice their skills," one of the team members said. "So in this way, we hope our work can build a model based on real-time data and situations and help them to observe, make plans and practice."
The system was the only project focusing on health issues, which was one of the three themes of this year's contest, and also won second place in the innovative section.
There were many other innovative works such as a 3D printer that uses recyclable clay as its material, a solar panel made with a biomimetic structure and nanometer material and an intelligent multifunctional lighting system that will help solve problems of road safety and environment.