Chinese goji berry increases appetite of western foodies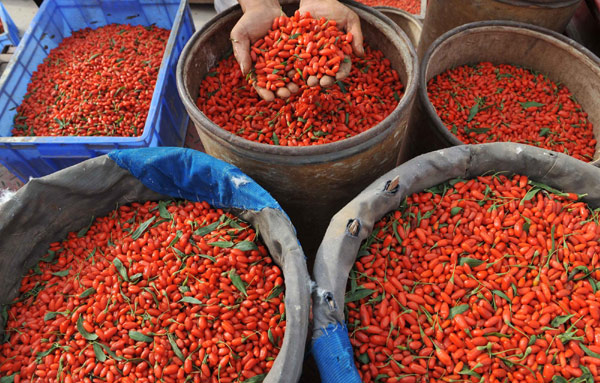 An abundant year for goji berries grown in Zhongning county, Northwest China's Ningxia Hui autonomous region. [Photo/Xinhua]
For many young people in China, bright red dried goji berries are a symbol of old fashion health food, often spotted in fathers' teapots or picked out of insipid chicken soup made by mothers.
However, the native Chinese berries are rising as the next star Chinese product in overseas markets due to Lao Gan Ma chili sauce and Mayinglong ointment. Recommended by big names including Madonna and Miranda Kerr, the goji berry is growing in popularity among edgy diners from western countries such as the United States and the United Kingdom.
The bean-shaped berry mainly grows in northwestern China's Ningxia Hui autonomous region, and has been used in traditional Chinese medicine for thousands of years to treat eye, liver and kidney ailments. It is also often added to soups, stews, and teas in daily life.
The goji berry, also known as wolfberry, contains a mix of vitamins, antioxidants, minerals, amino acids and protein and is alleged by some studies to boost the immune system and brain activity, protect against heart disease and cancer, and improve life expectancy.
Therefore, the berry, tasting like a cross between a cranberry and a cherry, has been marketed in the West as a "superfood", a term referring to foods with an incredible array of health benefits, such as acai berries, noni juice and sea buckthorn extract.
Many recipes featuring goji berries can be found on the internet ranging from eating straight from the packet to making breakfast bars or powder for baking.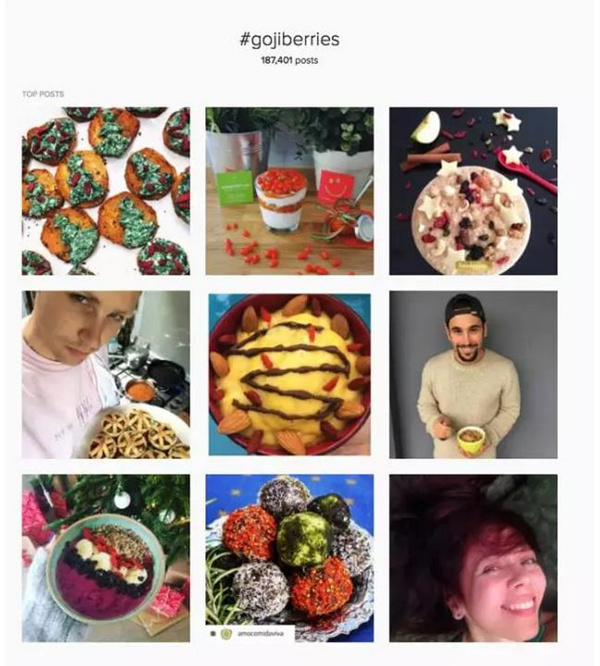 People show their food made with goji berries on Instagram.
More inventive tips can be found on Instagram and Twitter, where there are tags dedicated to goji berries and gourmands share pictures of their goji cookies, goji yogurt and even goji Turkish pilaf.
Growing demand for goji berries has boosted sales of goji-related products available online such as goji snacks, juice, extract tablets and face masks.
For example, on Amazon US, packed organic goji berries is the best selling product under the website's dried berry category. They are priced at $9.50 for an 8 ounce pack, or $1.19 per ounce. While dried cranberries under the same category are only about 25 cents per ounce.
The product is rated 4.4 out of 5 stars by 1,710 reviewers, many enjoying the sweetness and rich nutrition.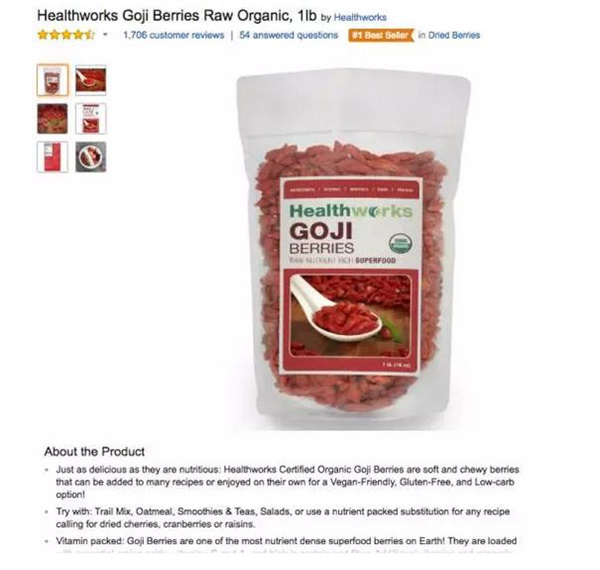 Goji berries sold on Amazon.
In a review entitled "my goji berry miracle", a customer claimed that the fruit has helped to heal a burst blood vessel in her left eye.
In another review, a customer even wrote an "ode to goji berries":
Chia seeds, almond milk, goji berries,
Cacao nibs, tart juice from cherries.
Let it soak, at least an hour,
Then eat to get some super food power.
On the other hand, there are buyers who find it hard to appreciate the strange taste.
"The taste is just odd but wasn't sure what to expect. The closest thing I can equate it to is a herbal fruit tea flavor. Not bad just different," said one user.
"This was my first ever purchase of goji berries and overall I wasn't too impressed. They're very dry and almost chalky. I added some to my oatmeal and it was just not an improvement, " said another.