Marathon fever grips China in 2016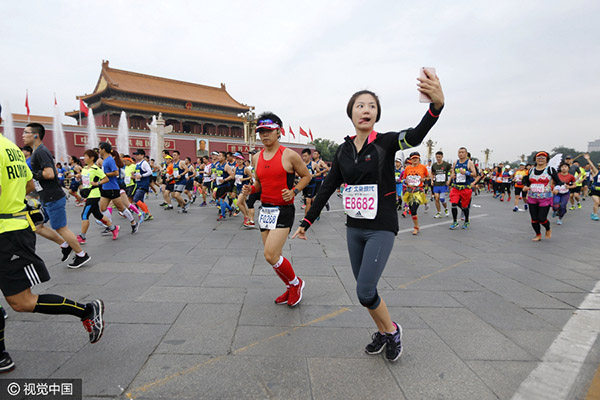 Runners compete during the 2016 Beijing International Marathon in Beijing, Sept 17, 2016. [Photo/VCG]
Marathon fever gripped China in 2016 with a record high of 2.8 million people participating in the long distance events held across the country.
Nowadays, marathons have become not only sporting events in China, but a spectacle to enjoy and celebrate. For some entrants, running a marathon is a chance to dress up in costumes, fulfill a life objective, or even propose to your loved one.
This year saw 328 marathons held in China, attracting about 2.8 million participants, a massive 85 percent increase over 2015.
Contestants from Africa are known for their strong long distance running abilities, prompting some complaints about the predictability of the results when they entered marathons in China.
For example, Ethiopian runners dominated the 2016 Beijing Marathon sweeping the medals in the men's race and the top two prizes in the women's on September 17.
A week later, Ethiopian runners cleaned up in the men's and women's races at the 2016 Hengshui Lake International Marathon in the northern Chinese city of Hengshui.
To encourage more non-professional runners to enter, the Chinese Athletics Association amended regulations, encouraging organizers to highlight local characteristics and elements.
However, problems such as quota allocation, cheating and health risks have undermined the competition, and need to be taken seriously by organizers and participants.
The deaths of runners in some contests has put a black cloud over marathon fever.
Earlier this month, two participants died after collapsing during the Xiamen International Half-Marathon in East China's Fujian Province.
One of the deceased was a substitute who competed under someone else's name and number.
Two female competitors in a Shenzhen marathon had their results canceled this month when it was discovered that two male ringers had run in their place.
China's athletics governing body and runners have called for tougher regulations to halt cheating in qualifying for marathons.
In terms of runners' health problems, some organizers demand health certificates and some demand previous marathon finish certificates.
Organizers have also reminded anyone considering entering that if they have symptoms that suggest potential heart problems or if they have a family history of sudden heart failure they should be cautious.