Postgrad test-takers set record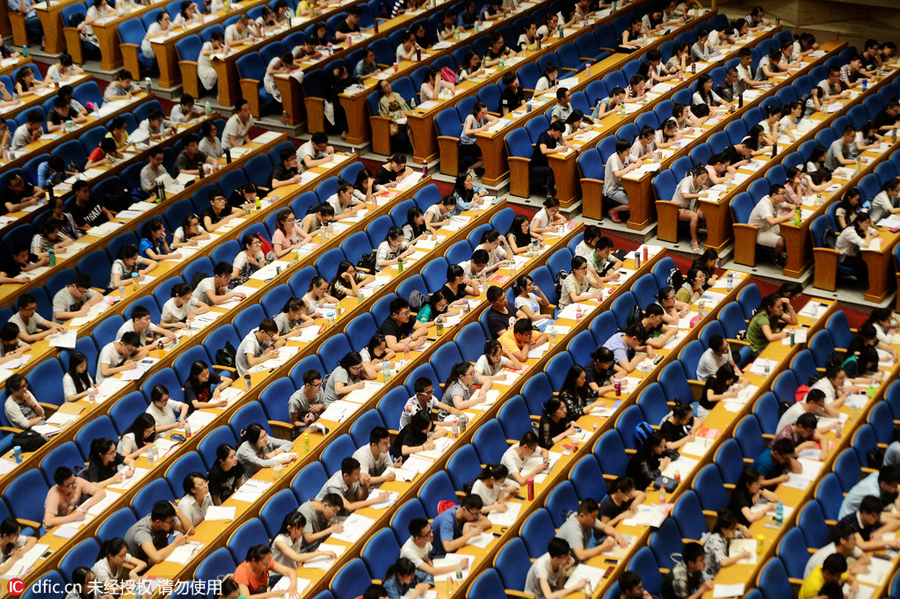 3,500 Chinese students take part in a tutorial and review session for the annual national postgraduate entrance examination at an auditorium in Ji'nan city, East China's Shandong province, July 18, 2016. [Photo/IC]
Ever-growing number means greater difficulty landing job in China next year
A record-breaking 2 million people registered to take the national entrance examination for postgraduates, which were held over the weekend.
The figure, released on Saturday by the Ministry of Education on its micro blog, represented a 14 percent increase over last year, when 1.77 million people applied to take the two-day exam.
Xiong Bingqi, deputy director of the 21st Century Education Research Institute, an education think tank, said the surge was partly due to a newly implemented policy requiring people who apply for part-time postgraduate programs to take the exam.
The number of people who applied for part-time programs was not released. Previously, such applicants only had to submit required documents and pass interviews organized by universities.
Xiong said China's economic and employment environment is a major reason for the surge in the number of people registering to take the exam.
Statistics from the Ministry of Education and the Ministry of Human Resources and Social Security showed that the number of college graduates in 2017 is expected to reach nearly 8 million, which would be a record high. The ever-growing number of graduates has made it increasingly difficult for students to land jobs.
"Under such circumstances, taking the exam and then pursuing further education would be a good option," Xiong said.
An online survey conducted by eol.cn, a Chinese education portal, found that 35 percent of respondents chose to take the exam to add to their competitiveness in the job market, because students holding only a bachelor's degree will not stand out when applying for jobs.
In addition, 31 percent of respondents said that they wanted to take the exam and pursue a higher-level degree to "improve their academic research ability".
Li Shengwei, a senior student of international law at Central University of Finance and Economics, took the exam in Beijing over the weekend. The 22-year-old said he hoped to pass the exam and be admitted to Tsinghua University, because attending one of China's top universities "would offer a better platform, both in terms of academic and employment prospects".
As a threshold for people who want to pursue postgraduate studies in China, the exam has received more than 1.5 million applicants since 2011.
Although the number of applicants fell for two consecutive years in 2014 and 2015, it surged last year. The number of people passing the exam and being admitted to a master's program has remained at about 500,000 annually in recent years.
Li Hongyang contributed to this story.