Xinjiang becomes playground for 30 million winter visitors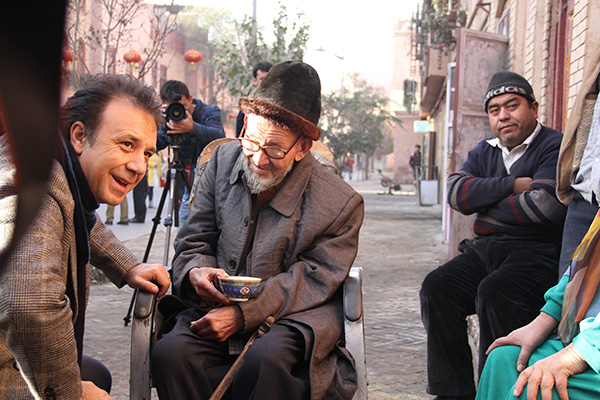 A foreign tourist chats with a resident of an ancient town in Kashgar.DENG JIAPING/CHINA DAILY
"Many people know that traveling to Xinjiang in summer is wonderful, while ignoring the fact that the region is equally worth visiting in winter," he said.
"Whether skiing or admiring the spectacular snow-covered landscapes, whatever activities tourists take part in, I bet they will be fascinated by the amazing scenery and cultural events-the likes of which they'll have never seen before."
To make full use of the region's resources, Gul Ablim said her office has been working to promote winter tourism over the past decade. A winter tourism industry exposition was launched in the region in 2006, becoming a national exhibition and fair in 2012.
Hosting China's 13th National Winter Games, which were held in Xinjiang from Jan 20 to 30, provided a further boost with the surge in tourists around the time of the event.
As of late March, Xinjiang had welcomed 100,000 more tourists visiting in groups than it did the previous winter, representing a year-on-year increase of 123 percent.
January alone saw more than 92,000 tourists from overseas visiting Xinjiang, while 77,000 came in February and 105,000 in March.
Nevenka Girvan, a retired businesswoman from Australia who has traveled to Xinjiang in both summer and winter, said she enjoyed the colder months for the clean air, beautiful scenery and the interesting mix of winter activities such as riding in a horse-drawn sleigh, sledding and horse racing on ice.
The 65-year-old said she has found Xinjiang's winters to be quite mild, with plenty to keep her occupied.
To better exploit Xinjiang's potential as a major destination for winter trips and attract more tourists from both China and abroad, Gul Ablim said the autonomous region is working to draft preferential policies and speed up construction of travel facilities.
"Places suitable for winter trips in northern Xinjiang-such as in Ili Kazak autonomous prefecture, Altay prefecture and Changji Hui autonomous prefecture-are building ski resorts," she said.
Contact the writers at zhaoxinying@chinadaily.com.cn