Innovative university courses are 'vital for the future'
Innovative universities are vital for China's economic transition, and will lead to more inventive centers of learning according to the president of a leading Chinese institution.
Zhang Jie, the youngest president of Shanghai Jiao Tong University since 1949, said the key to building a leading innovative university is to develop and encourage a high-quality faculty that is motived by innovation.
One year after Zhang took his post in 2007, he initiated a reform of a university-wide incentive system to motivate the faculty and students to be more innovative. The goal of the incentives is to develop a high-quality faculty that will be on a par with the best universities in the West by 2020.
In Shanghai in October, Zhang and fellow presidents from eight leading Chinese universities welcomed a delegation of eight vice-chancellors from the Russell Group, which represents Britain's top 24 research universities.
Zhang and David Greenaway, chairman of the Russell Group and vice-chancellor of the University of Nottingham, co-chaired the Russell Group-China 9 Dialogue. At the event, a joint statement was signed outlining ways to explore and build on existing relationships.
China 9 comprises nine elite research universities- Peking, Tsinghua, Fudan, Shanghai Jiao Tong, Harbin Institute of Technology, Nanjing University, the University of Science and Technology of China, Xi'an Jiaotong University, and Zhejiang University.
Greenaway said: "Our universities are international institutions that thrive on their academic links around the world. They recognize that big scientific, economic and social challenges will only be solved when the best minds work together through global research collaboration."
Zhang said the joint statement had laid a foundation for further collaborations.
"We are looking to set up a joint institute for low-carbon research in Shanghai alongside the University of Edinburgh, University College London and Imperial College London."
Zhang said Western universities have a strong interest in the rapid development of Chinese universities.
"In the West, universities have evolved, while in China universities could achieve the same goals in a relatively short time by following very detailed design with both top-down and bottom-up approaches," he explained.
As modern universities first developed in Europe, Zhang believes Western centers of learning have a much deeper understanding of the relationships between universities and society as well as the contribution a particular university makes to society, which is something Chinese institutions could learn from.
Zhang said both parties were discussing standards that would allow students to use their credits at universities in both the UK and China.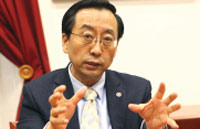 Zhang Jie, president of Shanghai Jiao Tong University.